Since 1994 our Youth Advisory Council (YAC) has represented most high schools in St. Clair County. They create a positive role model for youth as philanthropists, assess local youth needs, review grant applications and advise the Community Foundation on youth grant awards.
Our current YAC seniors took a moment to reflect on their years as "YACers".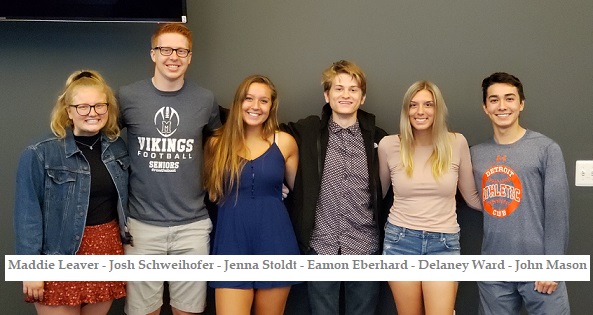 Maddie Leaver- Michigan State University, James Madison College for political science with a minor in Spanish
Josh Schweihofer- University of Michigan, College of Engineering for mechanical engineering
Jenna Stoldt- Loyola University in Chicago for business on a pre-law track
Eamon Eberhard- Michigan State University, James Madison College for international relations
Delaney Ward- Grand Valley State University for political science on a pre-law track
John Mason- University of Michigan for economics and neuroscience
"YAC has opened my eyes to how amazing Port Huron is and has inspired me to be a lifelong philanthropist," said Maddie Leaver. "I learned that I can make a difference in my community and how to effectively do so," she added.
Each year YAC is in charge of making grants based on their priority areas and Eamon Eberhard shared, "We only have so much to give and having a keen eye for grants that could make a significant difference in the community is essential."
Participating in service projects and attending events in the community are also a big part of the YAC experience. Some of the favorite experiences included: Painting and clean up at the Harbor Youth Home, volunteering at Mid-City Nutrition's Empty Bowls event, running a booth at Port Huron Recreation's Halloween Stroll, attending the Blue Water Chamber Eddy awards to recognize outstanding community leaders and being part of a sharing circle with Difference Makers at a visit to the program.
"Before YAC, I never truly knew what philanthropy meant. My experiences with grants, projects, etc… allowed me to comprehend how extraordinary giving back to people is,' said Josh Schweihofer.
Jenna Stoldt shared, "YAC has opened my eyes to many different opportunities and processes in how to make a difference in my community." Similarly, Delaney Ward said that, "It's taught me to be selfless and that giving back to your community is something a person can learn a lot from."
As John Mason said, "philanthropy strengthens community," and we couldn't agree more.
Best wishes to our YAC seniors and this year's graduates from all areas of our community. We are proud of all they have accomplished and learned.
If you have a current 8th grader up to a junior in high school, YAC applications are currently being accepted for next school year.