From The Keel: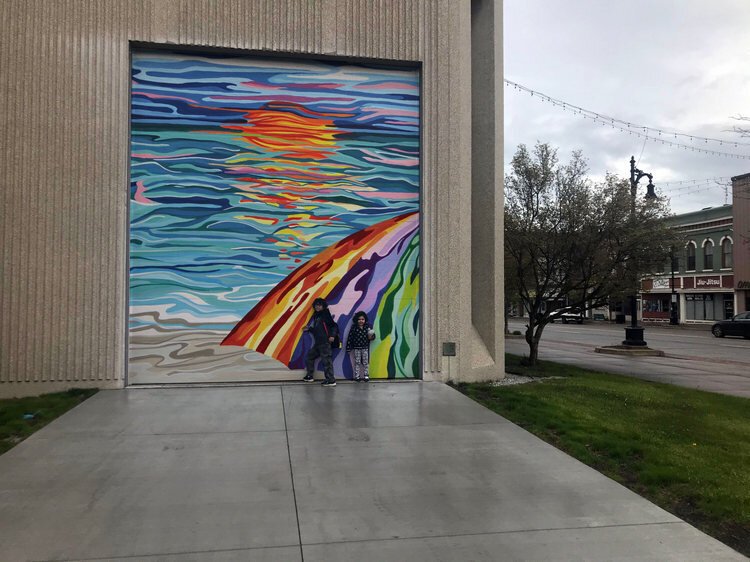 It started as a daydream, a what-if.

Jody Parmann — artist, co-owner of the Raven Café, member of Port Huron's Downtown Development Authority — was driving through downtown Detroit, admiring the murals that adorn the walls of city buildings. Why weren't there more of these in Port Huron, Jody asked herself.

"Obviously I'm focused on Port Huron. So, I took it upon myself to organize," Parmann says.

"I know the talent is there. I know the wall space is there."

Jody started driving the streets of downtown Port Huron, taking photographs of walls where murals could go. Soon, she was taking images she and her son created and Photoshopping them on to photos of walls, just to give people an idea of what it might look like. Jody posted those on the Blue Water Creatives Facebook group and everyone else's imaginations started to spark, too.

After posting the mock-ups, family members of Mark and Hale Walker, owners of Michigan Mutual downtown, reached out to Jody and said that they might be open to putting the idea of public art into motion.

The rest, as they say, is history.

Jackie Hanton, vice president of the Community Foundation of St. Clair County, soon reached out to Jody, saying that if she can come up with a plan, the Community Foundation can help make it happen. Jody herself is a member of the Community Foundation's Art Council.

Jody started a contest, soliciting submissions from area artists, looking for a mural to be painted on the side of the Michigan Mutual building. It would cost approximately $7,500 to complete the mural. The Community Foundation and its Blue Water Arts Committee granted the project $5,000. The owners of Michigan Mutual covered the rest.

"Jody is a member of the committee but that doesn't exclude her from qualifying to receive a grant. The strength of the project was so great that regardless of who presented it, it was worth considering," says Tom Walker, chair of the Art Committee.

"It was a strong idea and the committee overwhelmingly believes that this is a positive for downtown Port Huron."

After more than 40 submissions, the group was winnowed down to five finalists. And now the winning mural has been selected.

St. Clair native and Croswell resident Laura DeNault has been named the winner of the competition. Later this summer, around late August or early September, local muralist David Stoneberg will bring her abstract sunrise and rainbow painting to life, painting it on the side of the Michigan Mutual building.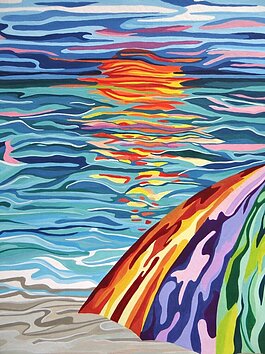 "My dad always tells me with anything in life, 'You'll never know until you try.' And in this case he reminded me, 'It only takes one to win'," DeNault says.
"With that having been said, I submitted one piece in the last hour of the contest, and gave it my best shot."
As it turns out, DeNault's best shot was the winning one, a colorful image in the gouache medium: A sun rising over Lake Huron.
It's an especially personal project for DeNault. She used to work as a graphic designer in that very building, back in the late 1990s when it was the home of The Times Herald.
"It's pretty fun all of these later to know that my artwork will be on the building I used to work in," she says.
Stoneberg has been tapped to paint DeNault's work on to the building. An accomplished artist in his own right, Stoneberg has work throughout the county, from the St. Clair County courthouse to the Marysville Middle School, and many homes and businesses in between. It's a powerful pairing of two talented artists.
"I'm more on the technical side of things. I like to analyze the surface and types of paints and find what will last the longest," Stoneberg says.
"It will end up looking like the winning submission, just larger."
Stoneberg expects to start painting in late summer and estimates that it will take four to six weeks to finish.
Though the competition has ended, Jody Parmann hopes that this is only the beginning of a public art and mural wave to surge through downtown Port Huron. She's already scoping out more locations, imagining what could go where. She's most recently been thinking about the tunnel entrance to Wetlands Park at the Blue Water River Walk.
Parmann also hopes that the successful mural contest will spur others to think about public art, to take on projects of their own. She's shown what it takes: Imagination, gumption, and a little bit of luck.
"I hope that this is the spark that creates more murals in our community," Parmann says.
"Murals give people a reason to move around downtown. Our downtown is up and coming with businesses but I would love even more reasons for people to stroll around and I think murals do that.
"There's so many neat businesses downtown right now. People visit the ones they want to and then go home. But murals give people a reason to stroll around and maybe find and visit other businesses they haven't been to yet."