Philanthropy is the practice of giving – be it time, talent, ties, testimony or treasure- to work toward prosperity for all. Our Community Foundation's philanthropic work in particular is dedicated to giving- by all means possible- to individuals, families, businesses and organizations right here in our community. On the simplest of levels, we take in donations and give away money to causes that benefit the people who live here.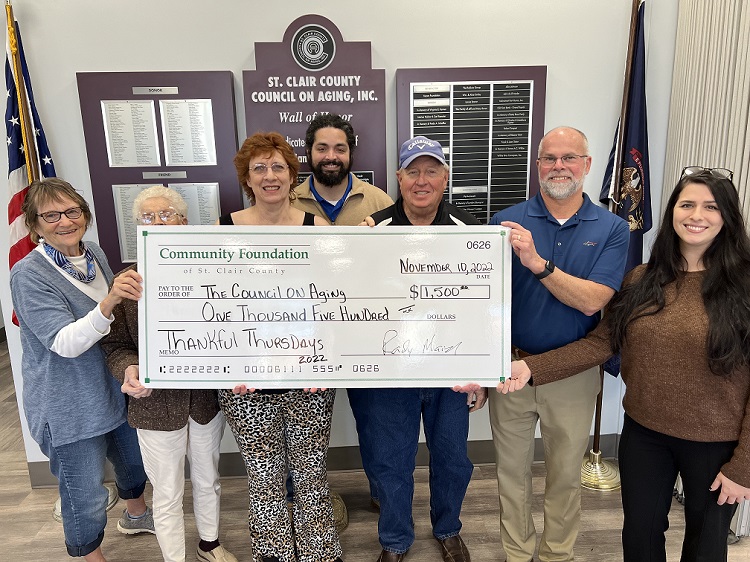 So far in 2022, 417 individuals have trusted the Community Foundation with their donations totaling over $1.5 million. Thanks to the power of investments and endowments, over $3.25 million has been given away this year through 750+ grants to various projects, organizations and student scholarships.
But why do people choose to give through the Community Foundation and who gets to decide just where all that money goes? And what does all this talk of "democratizing philanthropy" mean?
The answer is in sharing the power of giving away money through collaboration, communication and community.
"Contrary to what some might think, the staff and board of the Community Foundation have very little to do with choosing where all our grant money goes," said Hale Walker, Community Foundation board chair.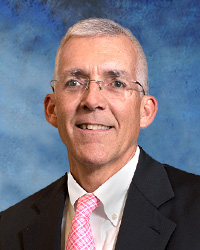 Take our Thankful Thursdays grant series. Last week a group of Hispanic Americans, that had served earlier this year as a panel for St. Clair County Community College's Hispanic American Heritage Celebration, selected and awarded our first Thankful Thursday grant for the year.
Steve Fernandez, Thelma Castillo, Jessica Totty, Ray Torrez and Heather Fagan were given the task of deciding who THEY thought was most deserving of a surprise $1,500 grant.
"It was an honor to be chosen to select the recipient, that the Foundation would think so highly of the Hispanic citizens, to empower us to choose," said Jessica Totty.
While the group valued the act of presenting The Southside Initiative with the check and witnessing the joy of their chosen recipient, it was being an active part of the selection process that resonated most.
"To be trusted to make that decision on our own… to independently consider our options, research ourselves and come to a decision on who WE wanted to support to further their mission and involvement in our community," Jessica said. "It's all about collaboration, communication and community."
"That's exactly it," said Hale. "The longer I'm a part of the community foundation family, the more I see the impact of our philosophy. It's not about how much money we have, it's about bringing people in our community together… helping to connect, equip, empower… so that THEY can do great things."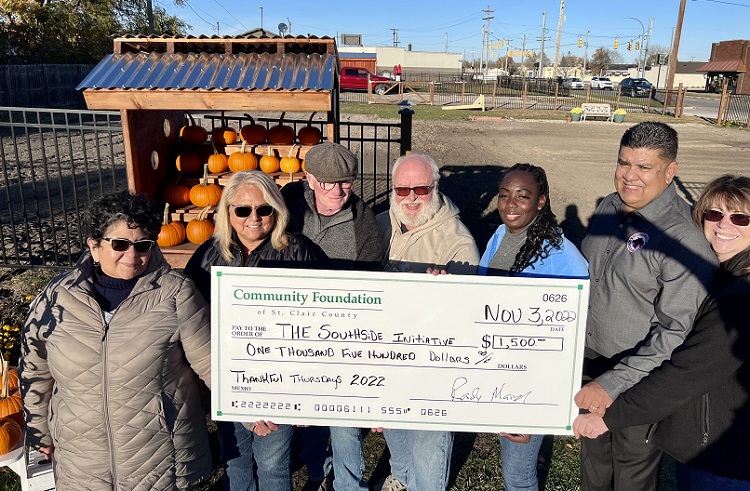 For the Hispanic American group, being empowered to make the selection meant that they could choose to support a cause that reflected their values and served an area that was important to them.
"We chose the Southside Initiative- a new upcoming group initiating great things to revitalize the south side of Port Huron," said Jessica. "We wanted to give them support and thrust them into the spotlight… make the community more aware of the work they are doing."
The Southside Initiative's approach to their work was especially important to the group. "We really like the way they are doing it… that everyone is invited to the table," Jessica said. "It's part of the whole equity lens… no one gets left out."
That intention of making sure everyone is included was present again this week, as members of the Blue Water YMCA's Silver Sneakers program awarded the second $1,500 Thankful Thursdays grant to the recipient they felt best serves seniors in their community.
To make their selection, YMCA staff members that work with their Active Older Adults programs gathered input from individuals throughout the county.
"We went around to our local programs- the YMCA classes and the Council on Aging classes in Port Huron and the Washington Life Center in Marine City- and we just asked them where they would like to see the money go," said Sheila Volker, a YMCA staff member that teaches group fitness classes at the three locations.
After gathering community input from seniors themselves, the top four choices emerged- the YMCA, the Council on Aging, the county parks and the county library. These choices were taken back to the Silver Sneakers program members to choose a winner.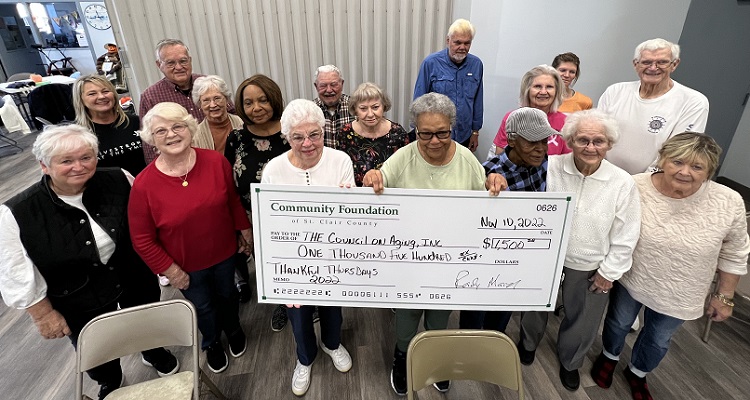 "With all of our classes at the different locations, we were able to survey and gather responses from several hundred people to come up with their choice" Sheila said. "That final decision, to award the grant to the Council on Aging, was the result of listening to what our community wanted, what was important to them."
The grant wasn't decided by a CEO, Foundation staff or even a grants committee… instead, the voices of hundreds of local community members were heard and they had the power to decide where to give.
"This is a great example of that communication and collaboration," Hale said. "We have a strong partnership with the YMCA and they have reach throughout the community. They have those relationships established with our seniors and were able to speak directly to them… to gather their voices and help them select a cause that was worthy to them. That's something the Foundation could never do on our own."
Some of those seniors whose votes decided where the grant would go were able to present the Council on Aging with the $1,500 grant check. As they shared what the organization meant to them and how the services had impacted their lives, they also talked about how they felt about participating in the selection process.
"When they told us what they were doing, I just thought what a blessing," said Addie Johnson. "That you (Community Foundation) intentionally included us… included me… in the process."
"That's our purpose- to lift up philanthropy- to let more people experience that joy of giving," Hale said.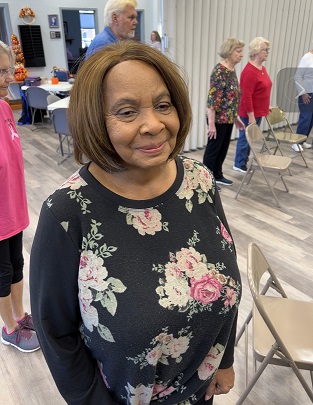 Overwhelmed with emotion and with tears in her eyes, another Silver Sneakers member shared about how powerful the experience of giving was to her. "It was such a blessing, to be able to give back a blessing," said Rhoda Holsey. "I have had some struggles this year and I received a lot of support from others who helped me. So to be able to be a part of this… and have that opportunity to pass that on and bless others… it just means so much to me."
Next week, the Native American jingle dancers from our recent Multicultural Celebration will have their turn to pass on a blessing, as they select a recipient for the final Thankful Thursday grant of this year. But Thankful Thursdays are just one small piece of the Community Foundation's commitment to collaboration, communication and community.
Between gatherings like the Multicultural Celebration and our 100 Women and 100 Men events, a dozen different granting committees, and donors directing their gifts… even without the Thankful Thursday series more than 400 people had some sort of say or vote in giving away money this year.
We don't measure our annual success based on how much money we raise or what our total assets are. We're driven to engage more community members in that joy of giving and maximize the power of their gifts through collaboration.
"People don't care how much money we have," Hale said. "They care about what we do, about the lives we impact. Our superpower isn't giving away money, it's bringing people together to do great things."