The Community Foundation works with hundreds of volunteers through our committees each year. Sometimes we're privileged to work with several members of one family, like the Greens.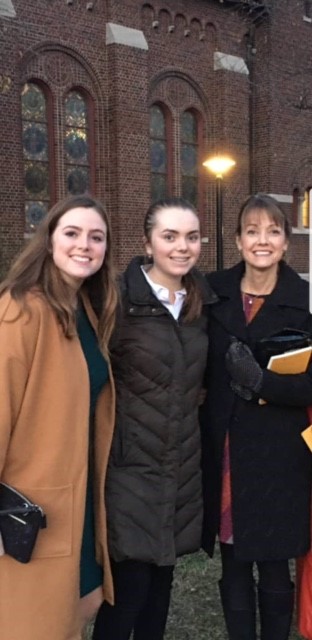 Lesley Green and her daughters, Natalie and Rachel, have generously given of their time and talents through our Marysville Community Fund and our Youth Advisory Council. "Working with the Marysville Community Committee really makes me more aware of what is happening in my own city," said Lesley. "The involvement definitely makes me look at things a bit differently and be more connected to community projects and needs."
Natalie was a part of the Youth Advisory Council (YAC) from 2013 to 2016, serving as the President in 2016. She said, "I think YAC is the greatest organization I have been involved with to date."
"It was humbling to see the impact that our grants can have and I was honored to be a part of the decision-making process. Not only this but YAC is really where I grew into the leader I am today. I started out as a quiet freshman but was voted in as president my senior year."
Natalie used her YAC experience to also be appointed to the Michigan Community Foundations Youth Project (MCFYP) Committee where she then helped facilitate the world's largest youth philanthropy conference with youth philanthropists from all around the state of Michigan.
After watching her sister go through the YAC experience, Rachel was intrigued and inspired to be a grantmaker as well. "With both my mom and sister being a part of the community foundation, we are all able to discuss and converse about how to handle different granting situations! It's also very nice to have others to talk to about what is currently happening in the community and how the grants in our respective communities have impacted the area."
Rachel also shared that, "Over the last four years, I have been able to increase my involvement with kids and adults from other schools and committees that I never would have had the chance to do before this opportunity!"
"Both Natalie and Rachel have grown in confidence whether it be a social setting, meeting new people, public speaking or compassion for those in need," said Lesley.
Having two daughters fairly seasoned with philanthropy at this point makes it fun for the whole family to all bounce ideas or thoughts around together.
Natalie shared that she loves everything about the community foundation, the people, the mission, and the experiences. "I was so excited for my mom to get involved as well as my sister. Rachel was even able to come to one of the MCFYP conferences I facilitated. It has just been really fun to share these experiences with both of them and to have a shared impact on the community." 
It's inspiring and heart-warming to have a family of volunteers connected so deeply with the community through the work of the Foundation. The Community Foundation's work is made richer and more impactful by the Greens and all of the volunteers graciously providing their time and talents.