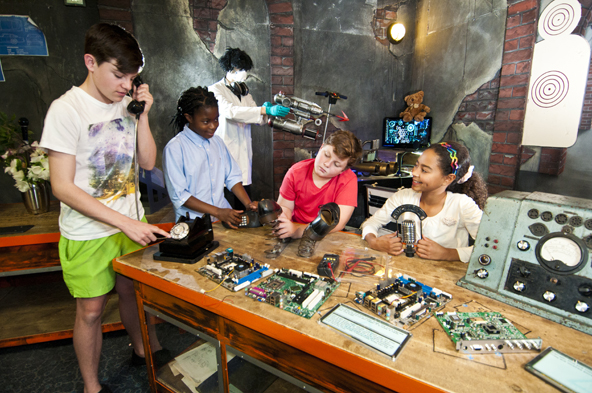 The Community Foundation is excited to announce an exciting, hands-on and family friendly exhibit coming to the Knowlton Museum in downtown Port Huron.
"This is an excellent opportunity to engage the community in a different way in the Knowlton Museum space generously donated a couple years ago by the Knowlton family," said Hale Walker, Community Foundation board chair. "This is our first effort at rotating exciting and hands-on exhibits into the Knowlton Museum space."
For many years, the Knowlton Museum has housed the Knowlton family ice collection which has been carefully put into storage to make room for Top Secret: License to Spy. The new exhibit is based around a James Bond-style fantasy of exotic locations, high-tech equipment and, of course, a mystery to solve. Through the task of breaking codes, using spy satellites and creating elusive disguises, this exhibit explores the science and technology of the undercover world of spying and espionage.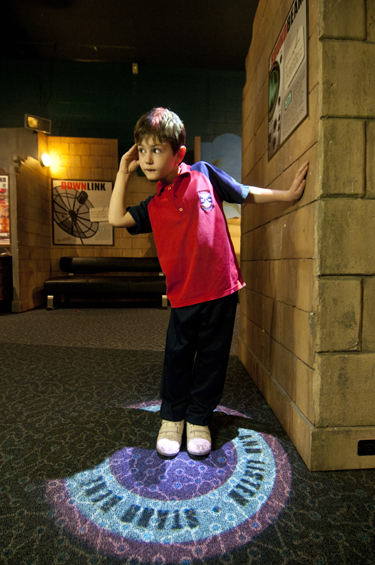 Equipped with a Spy File, visitors are presented with a scenario and six suspects. They will be challenged with gathering intelligence from selected exhibits to uncover information on the suspects, leading them on a journey of discovery into the life-like world of what it is like to be a secret agent. Kids and adults alike will be amazed by the behind-the-scenes glimpse into this world in Top Secret: License to Spy.
"We wanted to bring an opportunity to downtown Port Huron for families, school groups and visitors alike," said Patti Manley, vice chair of the Community Foundation. "The exhibit will build on the entertainment options available downtown, including the new Wrigley Hall."
The visiting exhibition is a demonstration of how scientific thinking can be used to solve problems in many aspects of everyday life with 21 interactive experiences that explore the science and technology of espionage, including:
Navigating a room full of laser beams without setting off an alarm
Finding the hidden microphones in a room that has been bugged by watching the reactions on an oscilloscope while tapping various objects around the room
Using a thumbprint scanner to gain access to satellite technology to pinpoint geographic locations with suspicious activity
Cracking codes by aligning sections of a transparent combination lock
Creating a disguise to go undercover
Using voice-changing technology to confuse enemy agents
"Our hope is to attract school groups from all over our St. Clair County school districts and in neighboring communities that don't often have a chance to experience a world-class exhibit close to home," Manley said.
"The STEM focus of the exhibit makes it easy for teachers to match with curriculum requirements and the Community Foundation is working with classrooms who need assistance to afford the trip."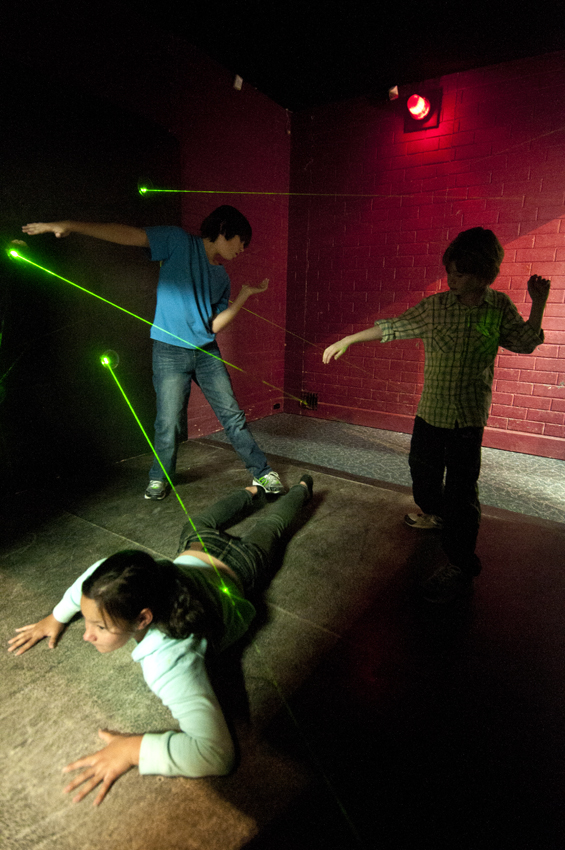 The Community Foundation is partnering with the Port Huron Museums to ensure an enjoyable experience at Top Secret: License to Spy.
"I couldn't ask for a better team to help the Foundation bring this exhibit to fruition," said Jackie Hanton, vice president at the Community Foundation.
"Port Huron Museum staff has been working closely with us to inventory the Knowlton family ice collection and will now help us transition the space for this exciting new exhibit. We're grateful to have their experience and partnership to bring Top Secret: License to Spy to town the end of April through September."
Top Secret: License to Spy opens Saturday, April 29, 2023 at the Knowlton Museum, 317 Grand River Ave, and runs through Sept. 5, 2023. Hours and further details can be found at www.knowltonmuseum.org The public is encouraged to pre-purchase their tickets online. Teachers can also get information and book a field trip online. Admission is $10 per person, 3 years old and under are free.
---
About Imagine Exhibitions
Imagine Exhibitions is currently producing over 40 unique exhibitions globally in museums, science centers, zoos, integrated resorts, and non-traditional venues, with millions of people around the world visiting our exhibitions each year. In addition to developing successful traveling exhibitions, Imagine Exhibitions designs, opens, and operates permanent installations and venues, and consults on building, expanding, and directing museums and attractions. With decades of diverse experience in the museum and entertainment industries, Imagine Exhibitions consistently develops exhibitions that educate and excite while exceeding attendance goals. For more information, visit www.ImagineExhibitions.com or find us on Facebook.
About Scitech
Explore your world through wonder! Scitech is a not-for-profit organization whose mission is to increase awareness, interest, capability and participation by all Western Australians in science, technology, engineering and mathematics.