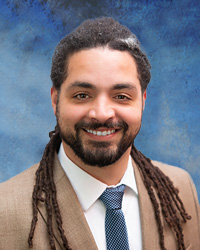 The Foundation is proud to welcome Josh Chapman to its board. Josh brings a strong passion for his community as well as 10 years of nonprofit experience. "I look forward to assisting in the game changing work the foundation does and the difference it makes in the region every day," said Chapman. "It is truly an honor to have the opportunity to give back to my community, especially as a part of the foundation."
Chapman is a resident of Port Huron along with his fiancé Judi, and their three children: Irving, Apollo, and Quentin. Josh was previously the vice president of Healthy Living and Membership for the YMCA of the Blue Water Area before moving to Texas. During his time in Texas, Chapman was the CEO of the Boys and Girls Club of Cooke County. While there he was able to gain the confidence of local leaders and board members while simultaneously implementing strong programs.
Chapman is always busy trying to find ways to give back to his community, but when he does get some free time, he enjoys reading, keeping busy with carpentry, and chasing his three kids outside.
Chapman holds a bachelor's degree from Central Michigan University. He returned to the region in early 2021 to become the CEO of the YMCA. He has been actively involved with a variety of organizations and governance within the communities he's been a part of; with the goal of providing hope, breaking cycles of poverty and helping all reach their potential.