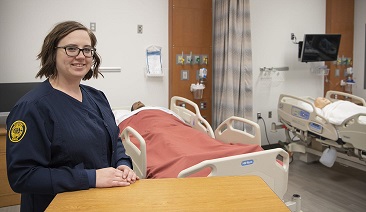 Kate Bosma's journey started in 2013 when she was first accepted into the nursing program, but had to drop out because she couldn't afford it. But she never forgot her dream of a hands-on career that contributed to the community's wellness, or one that could provide a better life for her and her daughter.
She again started the prerequisites for nursing in 2018, but this time she did it with the long-term support and understanding of the Community Foundation of St. Clair County. Over the past three years she has received more than $13,000 from the River District Hospital McFern-Smeltzer and Douglas & Elda Webb scholarship funds, which are owned and managed by the Community Foundation.
"Thank you to the Foundation, and all the donors for helping me reach my goals and accomplish my dreams," Bosma said, a recent graduate of the associate degree nursing program. "I would never have achieved this if it wasn't for all of you. Thank you for believing in me, investing in me, and empowering me. You added the fuel to my fire that I needed, and I cannot wait to see where this journey leads me."
Bosma is one of ten Community Foundation scholarship recipients celebrating finishing their time at SC4 and they have something in common – all participated in the Complete Your Degree program – a program centered around life needs and long-term support for college students.
In addition to their multi-year tuition support, these students also stayed in contact with Foundation staff who provided emotional support, connected them to campus resources, created care packages for exam week or helped with other financial barriers as they pursued their degree.
Leading into the upcoming 2021/2022 school year, the Foundation is expanding this philosophy to all students in its many scholarship programs, with a focus on building connections with students and helping to remove barriers toward completing a college degree.
This scholarship philosophy was first adopted in 2017 with help from the Ralph C. Wilson, Jr. Foundation, Michigan College Access Network and James C. Acheson Fund, which all provided grants for staff support for students like Bosma.
During her time in the program, Bosma has tutored and mentored other nursing students, gotten married and is expecting baby number two.
As soon as she completes the NCLEX, an exam nurses take to get licensed, she will enroll in the bachelor's nursing program at Eastern Michigan University.
"As far as employment, I am going to continue to tutor at SC4 for the nursing programs," she said. "I also am going to start working part-time at Beaumont Troy on nights."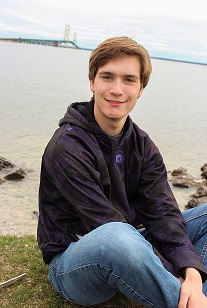 Adam Senyk, his sister Selena, Troy Voight and David Wandelt also graduated from SC4 with help from the Douglas & Elda Webb Fund, which is for graduates of Port Huron Schools attending a college in the county.
Senyk earned his degree in business, but after his recent work experience decided that business and marketing isn't the path for him.
"I wasn't bad at it or struggling with it I don't think, I just came to the revelation that a desk job behind a computer all day made my brains melt through my ears," he said. "This doesn't mean I'm becoming a starving artist or a homeless hippie; I think I've found a new career path."
Senyk is starting a job at Algonac State Park in the hopes of one day advancing into a law enforcement park ranger.
"Thankfully a degree in business is one that they say is useful on the DNR site so not all is lost," he said. "I'm glad I figured out early what I want to do with my life and I have the Community Foundation to thank for it."
Exam week also marked the end of Alexys Osterland's time at SC4, although her journey for an associate degree will continue at Macomb Community College, where she will take elementary education classes not offered at SC4. After that she will enroll in the elementary education program at Oakland University.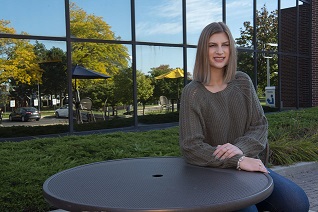 While at SC4, Osterland had her tuition, books and supplies paid for, was provided a laptop, and was also connected to the TRIO support services on campus by Foundation staff.
Osterland, her cousin Kennedy Osterland and three other students this semester are part of a group of students who have graduated or transferred from SC4 thanks to scholarships from the Alexander & Celestine Lamere Fund, which is for graduates of Marine City High School attending SC4. Since 2017, 34 students have received full-ride or large, multi-year scholarships from this fund.
"As this was my last semester at SC4 I wanted to thank the Community Foundation for supporting me through my time at SC4," she said. "Your support has helped me tremendously."