For as long as she can remember Kim Jackson wanted to do hair.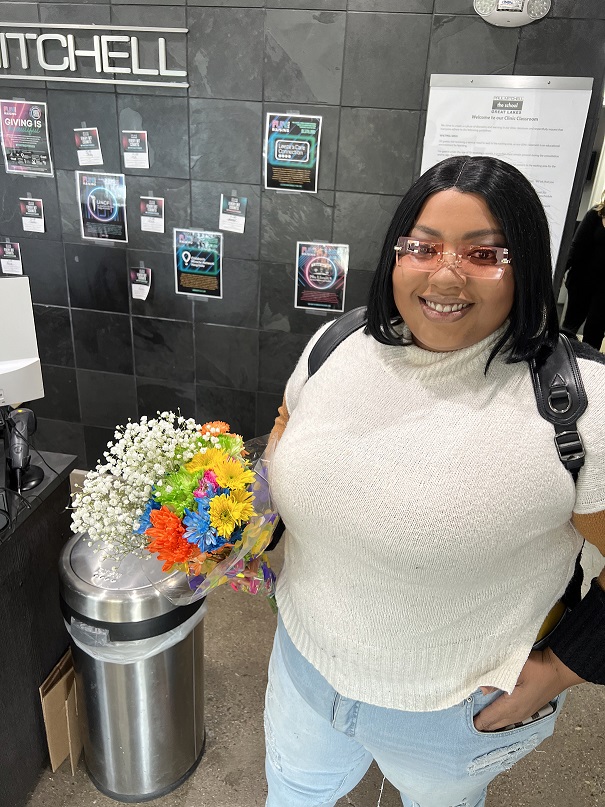 Her dream is finally coming true, as this fall she graduated from Paul Mitchell The School with support from the Douglas & Elda L. Webb Scholarship Fund awarded to her by the Community Foundation's Equity & Inclusion Committee.
"When the committee read Kim's application we saw a story behind a story," said Equity & Inclusion Committee Chair Shawn Shackelford. "We saw a mother who really just needed someone in her corner."
The 2014 Port Huron High School grad said she had wanted to do cosmetology in high school through the TEC program but wasn't able to get in. After graduation she studied business and theater for a year at SC4, then worked in manufacturing and home health care. In 2015 she enrolled at Dorsey School of Beauty in Taylor but, unfortunately, the program wasn't conducive to her work schedule and she was forced to drop out. It was shortly after that that Kim found out she was pregnant with her daughter.
Unable to complete hair school, and with a daughter on the way, she turned to a CNA program and received her credential in 2018. While she loved caring for her patients, it still wasn't where she wanted to be. "Nursing wasn't my passion, it wasn't what my heart wanted," Kim said.
But the path to her dream seemed to be filled with road blocks.
"I felt like everything I was trying to do in life wasn't working… I was experiencing so much failure," Kim said. "But I had a conversation with God when I signed up for my CNA. I said Lord if you can help me focus and finish this program then I know one day you will give me the courage and strength to go back and finish hair school."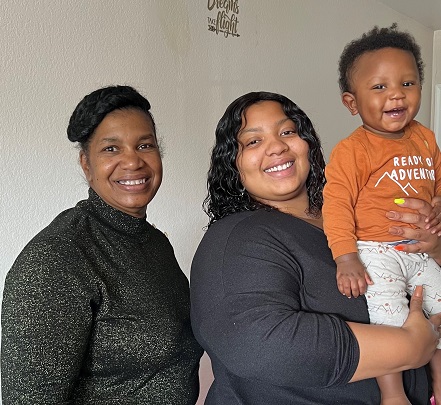 In 2021, she got pregnant with her second child and decided it was now or never. She registered for Paul Mitchell The School Great Lakes' cosmetology program but soon discovered that her Pell grant only paid for about half, leaving her with a balance that she didn't have the means to cover.
"I hadn't worked in five years prior to that… I was a stay-at-home mom," Kim said. "My husband was very supportive of my dream- he thinks I can do anything- but he was the sole provider for our family. I didn't know how I was going to pay for it… I would not have been able to do it if I hadn't received help."
It was Kim's mother, Pastor Kimberly Brown- executive director of S.C.C.O.R.E., who encouraged her to apply for scholarships through the Community Foundation.
"I had thought about applying for scholarships but I didn't think they covered trade school, I thought it was only for students at SC4 or universities," Kim said. "My mom had established a relationship with the Foundation and she told me that there were scholarships that were open for trade schools too."
Kim applied and the committee awarded her $6,500, covering the remainder of her costs and clearing the path for her success.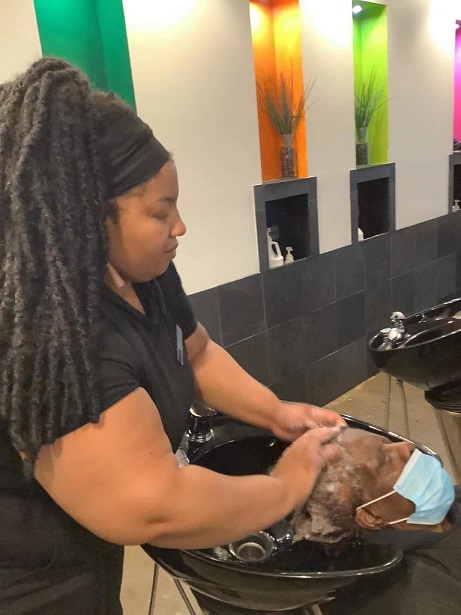 "Not everyone takes the 'traditional' route, and many times folks are better for it," said Shawn. "We could see that with a little bit of investment from us, Kim's path would take her far… not just to achieve her goal of completing hair school and becoming a stylist, but to go even further and become an instructor or future business owner herself."
And that's just what Kim hopes to do. Upon completion of her state tests in a few weeks, she will begin working at T&M Hairology salon in Port Huron. Eventually she hopes to open up her own salon or even her own beauty school. Kim also has a dream to inspire the next generation by starting a K-12 liberal arts school.
"I want to give kids a chance at those things early on- expose them to arts and trades and different areas when they are younger… help them discover and cultivate their gifts early on," Kim said.
It was that vision and commitment to her community that struck a chord with the Equity & Inclusion Committee.
"Students like Kim, they have something school can't teach… grit, resilience, dedication," said Shawn. "Investing in these non-traditional students not only changes their lives and their families', but has potential to impact an entire community."
When it comes to making an impact on her community, Kim is ready for the challenge.
"Be on the lookout for some of the great things I'm going to do in the community," Kim said. "I am really into community building and giving people a new way of thinking. There is so much potential here in our community… there is no reason why we can't put this place on the map.
"I just want everyone to know- you don't have to settle, you can be anything that you want to be and there are people out there ready to inspire you and ready to walk with you."