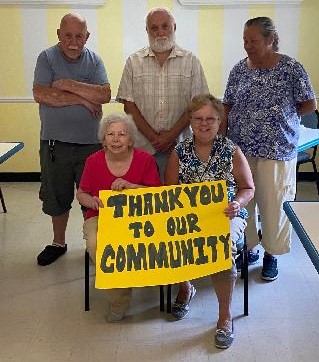 Sanborn Gratiot Memorial Home (SGMH) recently exceeded their virtual campaign goals enabling them to make a $2,655 gift to their endowment fund.
"The community far exceeded our expectations, and we are thankful and grateful to all who recognize the need for Sanborn Gratiot Memorial Home and to all who chose to support it even in the midst of this pandemic," said Kathy Swantek, executive director of Blue Water Developmental Housing, Inc. a nonprofit that manages SGMH. The 2020 Spring Friendraising Campaign raised more than $32,000.
"The SGMH endowment fund provides for the long term future of the home and their aging residents in need," said Jackie Hanton, Vice President of the Community Foundation. "Much like a retirement account, the SGMH endowment fund will help serve the future needs of the home and provide donors an opportunity to leave a legacy in support of the wonderful care the home provides to our local seniors."
The Sanborn Home provides affordable, comfortable, and safe assisted living to the aging community. "An integral part of the Sanborn Gratiot mission is reserving space for residents who are unable to pay for services. The funds raised each year contribute greatly to helping the home meet residents' needs and fulfill our mission," said Swantek.
Since 1944, Sanborn Gratiot Memorial Home has provided quality assisted living to lower income seniors, many of whom had no other housing alternative. Sanborn Home is the only "licensed home for the aged" in St. Clair County and the only senior residence with a mission to serve lower income individuals. They strive to maintain a high quality of life for their residents through social activities and family involvement.