This summer 15 local high school students participated in the Port Huron Police Department's Youth Academy, thanks to grant support from the Community Foundation's James C. Acheson Fund and Robert H. and Paula M. Cleland Community Youth Fund. In addition, two academy participants and two local graduates received scholarships from the Emily Knox Law Enforcement Dedication Scholarship Fund to pursue careers in law enforcement.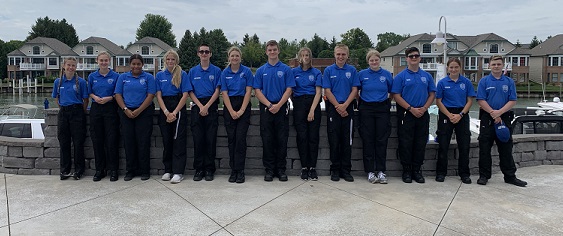 The Youth Academy first started in 2018 as a way to get young people interested in law enforcement as well as help change the way they see police officers, especially those in their community.
While the PHPD covers the costs of officer staffing, the rest of the week long camp has been fully funded by Community Foundation grants- from the Acheson and Cleland Funds as well as several years of support from the Youth Advisory Council Fund. The academy staff includes school and college resource and community services officers and is led by School Resource Officer Dennis Huisman.
"We're very thankful," Huisman said. "Without grants it couldn't happen and for a few of the years it has been YAC that funded it, so it's really cool to see other high school students recognize how important it is for their classmates, and understand the impact it has on youth."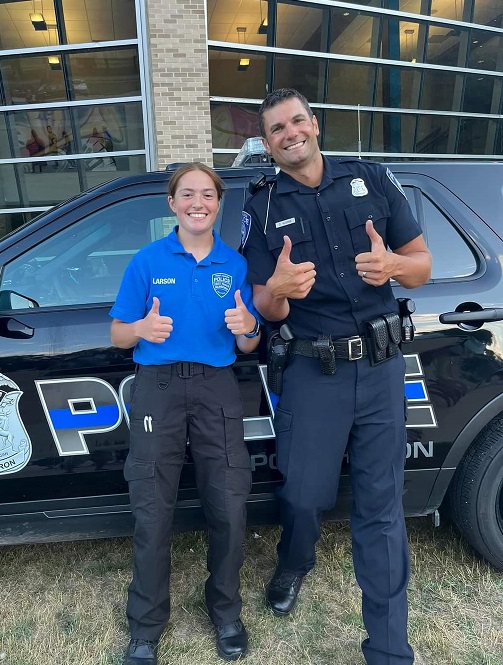 Youth Academy participants receive personalized physical training uniforms and are assigned a gun belt, training gun, handcuffs and flashlight for the week. They receive training on weapons, defensive tactics and evidence collection. One of the favorite training activities for the youth is at a training center at SC4, using their MILO virtual simulation training system.
"We spend most of the week at the high school, but on Thursday we take them to the training center," Huisman said.
"The kids love it because it's this large interactive virtual program- it feels like a video game- and it puts you in different scenarios. So what are you going to do? Are you going to arrest someone, pepper spray them, pull your gun?"
But it's not all fun and video games. Huisman said some of the activities at the academy can be can be embarrassing for participants to try, especially in front of their peers. The teens often need to be coaxed to step out of their comfort zones to try new things. But for those who do, there is the reward of achieving something new and finding out what they are capable of. For a couple, there is even a financial reward, as two academy participants are chosen at the end of camp to receive scholarships from the Emily Knox Law Enforcement Dedication Scholarship Fund.
"It's not for the smartest person or the person with the best scores," Huisman said. "Jennifer and Kevin Knox came out and made a speech to everyone, letting them all know that we're looking for the person who is most dedicated, working hard, stepping out of their comfort zone, building others up."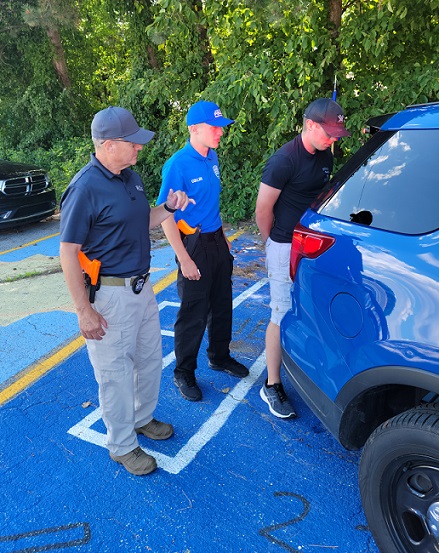 The scholarship was started by the Knoxes in memory of their daughter Emily whose future in law enforcement was tragically cut short by a traffic accident in 2019. She was enrolled at Saginaw Valley State University as a student in the Criminal Justice program and participated in the first Youth Academy where she encouraged future Youth Academy attendees to do their best and reminded them that their best is not everybody's.
Carrying on Emily's spirit and memory were this year's academy scholarship recipients- Aaliyah Jefferson and Becca Larson. Also receiving Emily Knox Law Enforcement Dedication Scholarships, through the Community Foundation's main scholarship process this spring, were Armani Arnold and Brett O'Neill.
Larson, a second year participant, said it was a last minute decision to do the academy again, not knowing anyone who was participating this year, but she's really glad she did.
"It's a really fun way to learn more… you get a good look at what police officers do on a day-to-day basis," Larson said. "Getting to learn from all the officers at the Academy- they had a lot of knowledge to offer.
Her favorite part? "I really liked the building searching- working with a few other people to go through and clear rooms in a building… it requires a lot of teamwork and communication or a lot of things can go wrong if you're not in sync with them," Larson said. "That's when those friendships and relationships that were built come into play and are really important."
Officer Huisman said Larson was selected for a scholarship because she showed maturity, dedication and a strong work ethic.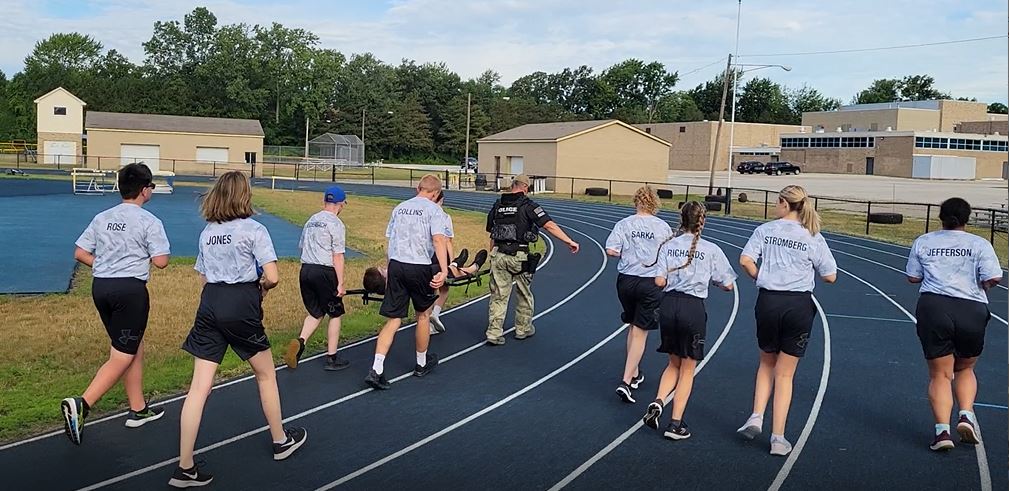 "Becca worked hard," Huisman said. "She never said no, pushing herself to do the best she could. She never quit… numerous times I thought she would quit but she never did."
But Larson wasn't just in it for herself. "She pushed those around her as well," Huisman said. "Becca wanted everyone else to succeed… if students were confused or unsure what to do she was right there helping and encouraging them."
"It's an honor to be picked," Larson said. "You have to stand out and there were 15 people so being picked is important to me and lets me know I am doing the right thing. And it's extra special to be picked for an award in honor of Emily, especially as a girl."
The Academy had a strong female presence with 11 girls to only 4 boys. A ratio that Larson found unexpected, but welcome. "It's surprising, both years I did the Academy there were actually more girls than boys," Larson said. "It's nice to see so many girls there… being with like-minded people."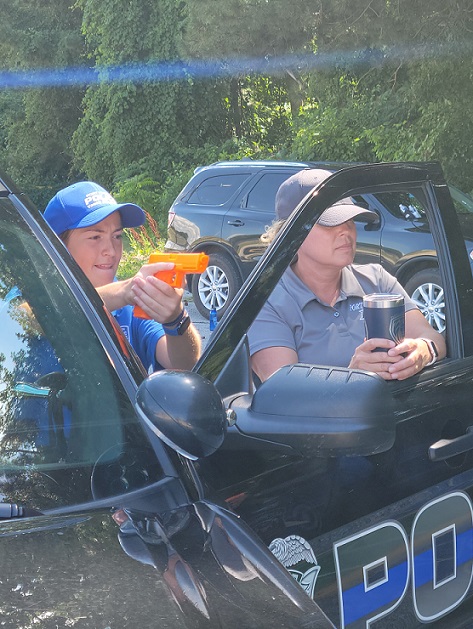 Challenging gender norms is nothing new to the Port Huron Northern senior. Last year she was the first ever female player on Northern's hockey team. Deciding whether or not to play collegiate hockey, what college to attend and choosing a specific career path are still up in the air for her, but she knows she wants to pursue a future in law enforcement and said she could see herself being a police officer.
"I think it would be very rewarding, getting to work with the public," Larson said. "They (police officers) don't really have a great reputation right now and if I could even make a small change in that… that would be really cool."
The possibility of Larson returning to Port Huron after college to work at PHPD is music to Officer Huisman's ears.
"That's why we have the academy," Huisman said. "To get them involved at a young age so more will want to make it their community, make it a place they want to live. That 'want to get out of Port Huron' mentality is changing and more and more people want to stay here, start their careers and families here."
Right now there is a high demand for law enforcement officers and police academy graduates can find employment- and perspective employers raising wages to compete with one another- pretty much anywhere they want to go. Huisman says it's the relationships with the community and community programming and outreach that helps set PHPD apart and makes people want to be part of it.
"We're helping to grow relationships and I hope that draws people to our community," Huisman said. "I just hope they see how the Community Foundation, the Knox family, and Port Huron Police Department is and how they invest in our community… and they want to come be a part of that."