Kanchan and Mukund Wankhede are a multi-talented, powerhouse couple. From theater to business, their passion and investment in the vibrant growth of downtown Port Huron is clear.
The local entrepreneurs currently own three small businesses, a building in downtown Port Huron, and have had significant influence on Port Huron's entrepreneurial development as well as its arts and culture scene. But those familiar with the Wankhede's impact may be surprised to learn that this dynamic partnership began less than a decade ago.
An international love story
Back in 2012 Mukund was living in Port Huron with his daughter, Ruchi, and working as an engineer for General Motors.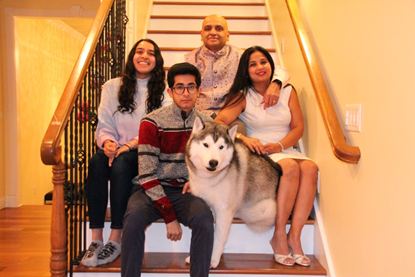 Meanwhile, Kanchan was living on the other side of the world, working as Head of Human Resources for Ferrero India – maker of those delicious chocolate hazelnut treats. A single mother of a young son, Ayaan, she was in the prime of her career with HR experience from several global companies.
Having reached professional stability, both Mukund and Kanchan were looking for someone to share their lives with when they both signed up for Matrimony.com, a popular Indian matchmaking website. Hesitant to start something with someone almost 8,000 miles away, their communication began with emailing one another.
Although originally both from India, they came from two different and distinct cultural backgrounds. ""There are 28 states and 22 official languages and 122 other major languages in India," Kanchan said.
Kanchan was from the south, Mukund originally from the west. Their home languages were not the same, but they both spoke the national language of Hindi as well as English. Over the course of two years their relationship developed. Emails turned to texts and phone calls until finally Kanchan and Ayaan came to visit in 2014.
"We had lived in Minnesota for over a year back in 2010 for my job, so I had already learned the hard stuff like driving on the other side of the road," Kanchan said with a laugh.
The two families hit it off and Kanchan and Mukund were soon married.
Global leader turned local entrepreneur
Eager to begin this new chapter, Kanchan dove into her life as a stay at home mother and wife. After a few years, with her family settled in, she began considering the possibility of going back to work. It was a daunting venture for her. As a highly sought after HR professional in India, she had not actively pursued employment since the very beginning of her career.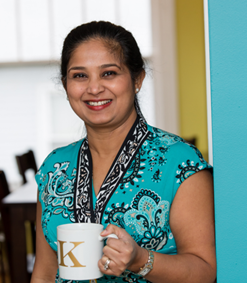 "I hadn't done a resume in years," Kanchan said. "It was three pages long at first. My husband told me no one will read three pages, but I asked him 'how will I put in all of my experience?'"
She was able to whittle her resume down and began to send it out to local companies, starting with Mukund's connections and working her way out from there. She then followed up with calling, emailing, visiting… but no one responded.
"This area is so beautiful, but it is lacking diversity," said Kanchan as she described her unsuccessful efforts to not only obtain employment, but to create connection and build community. She could feel the resistance and hesitation from companies and individuals who were unfamiliar and uncomfortable with someone outside of their culture.
Discouraged and disheartened, she began to contact schools and other organizations offering her expertise and services free of charge. "I didn't even care," she said, "I told them, 'you don't have to pay me!' I just wanted to do something, to give something."
Passionate about her work and the knowledge she had to share, Kanchan persisted as she continued reaching out, networking, seeking out opportunities. She was eventually invited to share with a local business class and then later began some HR consulting. That led to her position at Blue Water Startups & Entrepreneurs where she was encouraged to start her own business – Great Workplace. Through Great Workplace, Kanchan has provided HR solutions to a variety of clients from Physician Healthcare Network to Hunter Hospitality House.
Creating community
During this time, Kanchan and Mukund were very involved with their local Indian community and were regularly traveling to the Detroit area, the closest place for Indian cultural events and theater.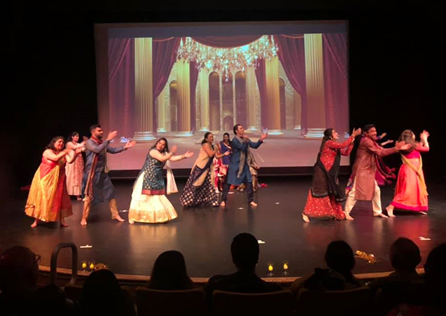 "You want to mix with your own people," said Kanchan as she explained how wanting to be connected to your own culture doesn't mean you don't want to be part of the larger community. Kanchan believes strongly that with the right approach, there is a way to appreciate individual uniqueness and still have inclusion, sharing her simple mantra "we are different, but you are welcome."
The Wankhedes became heavily involved in the Detroit Indian theater scene as they found ways to connect with community as well as share their talents. Mukund's theater background had started in college, backstage building sets and then working with stage lighting. Kanchan had experience on stage as a singer, dancer and choreographer and soon added makeup and costume design to her theater resume. The talented duo participated in theatrical productions in Detroit from 2015 to 2017, until friends and family encouraged them to bring their passion to Port Huron.
In 2017, with the help of some local sponsors, Kanchan produced Rang Tarang, a Bollywood song show which debuted at the Black River Country Club in Port Huron. The show, whose intended audience was the local Indian community, was performed in Hindi and drew in people from Port Huron, Detroit as well as many from Sarnia and London, Ontario. Kanchan said she was surprised because the audience also included 10-15 non-Indian attendees.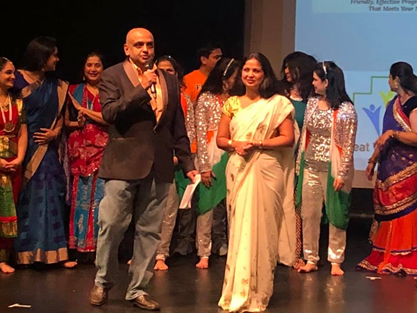 The show was a huge success and so began the second Wankhede business – Karma Entertainment. Karma is an acronym for all of the family members- Kanchan, Ayaan, Ruchi, Mukund, and their dog Archie.
Responding to the positive feedback, in 2018 Karma Entertainment introduced their first full production, Chitrahaar. With support from a Community Foundation grant they booked the SC4 Fine Arts Theatre.
"All of our friends from Detroit loved performing in Port Huron," Kanchan said. "They were used to the large venues in Detroit, but at the SC4 theatre the audience is so close, it's so intimate, you can really connect and interact with the audience."
For their third production, Jashan, which means Celebration or Festivities, Karma Entertainment decided to do the show in English to accommodate the increasing interest from the non-Indian community. "It was all about fusion, connection," Kanchan said.
Much like the Indian festivals that Kanchan and Mukund had grown up with, the performance incorporated elements of live music, singing, dancing and art, showcasing the vibrant colors, high energy and communal spirit of Indian culture.
Investing in Downtown Port Huron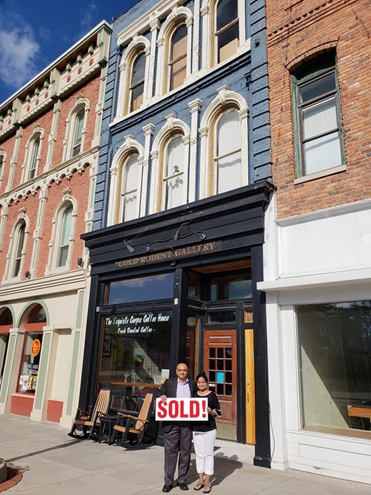 Feeling more connected with their local community, their desire to invest only grew stronger. Mukund was also attending the Blue Water Startups events where he was bitten by the entrepreneurial bug.
"We wanted to be a part of the downtown vibrancy, in the heart of Port Huron," Kanchan said. Soon the Wankhedes had their eyes on a downtown building for sale and that led to their third business, Karma Realty Holdings, and the purchase of their first property at 410 Water Street in 2018.
The Wankhedes got to work on their three-floor investment, with the first floor already established as the home of The Exquisite Corpse Coffee House. They divided the second floor of the building into a loft apartment as well as an office space that they are pleased to have recently leased to a local artist. Next in their plans are renovations to the third floor, which include a new roof and elevator.
"We're very excited, we have a lot of great ideas for the space," Kanchan said. "It gives us even more opportunities to incorporate diversity and culture into downtown."
Connecting with diverse small businesses
That commitment to increasing diversity and cultivating community through inclusion would come into play in 2020 when the Community Foundation's Equity & Inclusion Committee was looking to hire a
consultant. In response to Covid-19 and its devastating effects on local businesses, the Foundation awarded $25,000 in grants to local minority and women-owned small businesses and hired two consultants to work one-on-one with their owners.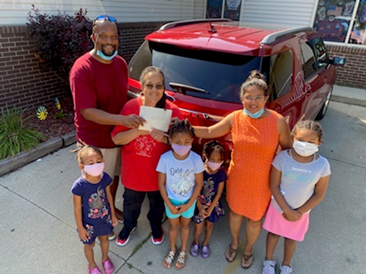 "With Kanchan's HR experience and her passion for equity, she was an invaluable resource," said Jazmyn Thomas, chair of the Equity & Inclusion Committee.
Kanchan started reaching out to local business owners. While she had success right away with Black and women owners, she said she struggled to build rapport with other groups, especially the Asian community, as they were often hesitant or even refused to speak with her.
"They were afraid to speak to me," she said. "They had faced discrimination, they had painful experiences. People are being discriminated against for so long they become numb to it, they close themselves off."
But she persisted, because she knew what it was like to be surrounded by a community she didn't feel a part of. So she found creative ways to connect, to build trust.
For Kanchan, this meant going to meet people where they were comfortable, finding individuals they would trust to connect through, and learning to communicate in ways that built trust – on one occasion even having her daughter transcribe notes in Mandarin to communicate her intentions.
"They didn't trust me, they didn't know me," she said. "And they certainly aren't going to go looking for help or resources for entrepreneurs. People here use that term – entrepreneurs – and it sounds so fancy and glamourous. But that is not their experience. People are just surviving, they don't see themselves as 'entrepreneurs'."
Her persistence and ability to empathize paid off. What started as a simple list of 14 names and phone numbers grew to almost 60 connections. The relationships she cultivated instilled hope and trust. And then in August, through funding from the Ralph C. Wilson Jr. Foundation, the Community Foundation of St. Clair County extended her twelve-week contract until at least the end of the year.
One of Kanchan's clients, Naesa Richardson of Flourish Hair Gallery, said Kanchan played a key role in not just securing a small business grant, but in moving her business forward. Kanchan helped with paperwork and applications, but also increased Richardson's networking.
"She is very open minded and resourceful… and she follows through!" Richardson said. "If I asked for something and she didn't know the answer she wasn't afraid to say so, but she would always go find the answer and get back to me. People like to give you answers, but not many people will do something like that.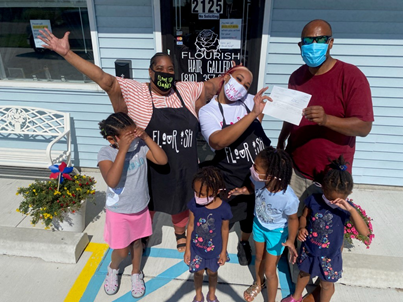 "You know that she cares; she even became a client," Richardson added. "We have a real relationship."
That ability to develop relationships is what makes the Wankhede's so successful in their efforts to build community and equity. They are hopeful and encouraged by the progress they see happening, especially when it comes to inclusion.
And she also knows firsthand the benefits of efforts like hers, whether it is within a single workplace or a growing lakefront community. "Diversity, equity in a community, inclusion….it's not just about attraction but about retention," Kanchan said. "People will want to stay, to be a part of the community that has been created."
It's a movement that the Wankhedes inspire and encourage everyone around them to be a part of, to help build this beautiful, equitable community.
"What can YOU do in your own capacity?" Kanchan asked. "Not just how you think, or even what you say. What actions? What specific, measurable, actions can YOU take to change things?"