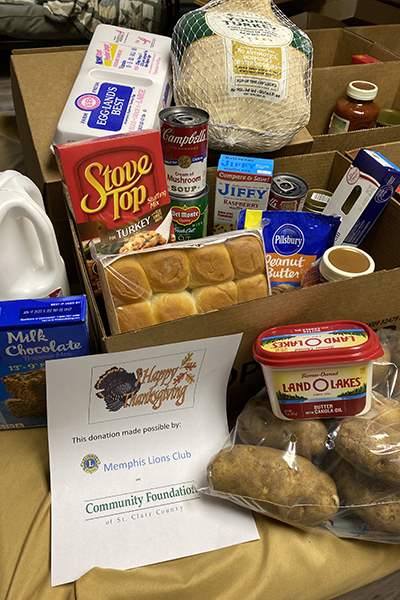 The Community Foundation's recent $10,000 grant to the Memphis Lions Club is helping to fund a major kitchen renovation project and support the organization's annual holiday basket distribution.
"This grant will benefit families in the Memphis area by helping the Memphis Lions Club provide food and essential items during the holidays and it will also have a lasting impact by helping the organization become more self-sustaining and increase its capacity for service within the community," said John Tomlinson, chair of the Community Foundation Grants Committee.
Each year during Thanksgiving and Christmas, the Memphis Lions Club puts together and delivers holiday baskets for families and individuals in need around the community. Filled based on family size with food such as milk, meat and potatoes, during Christmas the baskets will also contain items such as canned goods and personal hygiene products to help throughout the winter.
"If people are in need, they let us know," said Nancy Thomson, Memphis Lions Club member. "It's just like neighbors watching out for neighbors and it's been a very unique way of going about it but it seems to be working quite well."
Thomson estimates that the Lions Club spends on average about $140 per basket after donations. Funding for the projects was provided by the Harry F. Lewis Fund and the Margaret C. Lutz Endowment Fund through the Community Foundation.
"It's been a tough year and last year was even worse because we couldn't have any fundraisers," Thomson said. "We always try to earmark $1,000 for charitable baskets, but it was very hard for us to even come up with that so without this grant from Community Foundation, it might have been only five families instead of 40."
The grant also helps to supplement the cost of a kitchen remodel of the Memphis Lions Youth Center which has largely been untouched since it was built around the 1950s.
"Nothing has been done to the kitchen for a long period of time," Thomson said. "For us to do anything such as putting on meals for senior citizens or having a fish fry to raise money for other service projects, we were unable to do that because our kitchen did not meet the health department's code."
Updating the electrical and plumbing as well as installing stainless steel equipment and appliances are among the work that needs to be done to renovate the space.
"By having a working kitchen, we will be able to have functions and fundraisers that will allow us to generate money so that we would not be as dependent upon others to help us do the service projects," Thomson said. "We could provide more opportunities and we're looking at the socialization aspect for senior citizens as well."
Combined, the Harry F. Lewis Fund and the Margaret C. Lutz Endowment Fund have provided more than $200,000 to programs, organizations and initiatives supporting causes that are centered around economic development, family, recreation and supporting our community's elderly residents. To learn more about funds like these, visit stclairfoundation.org/funds.