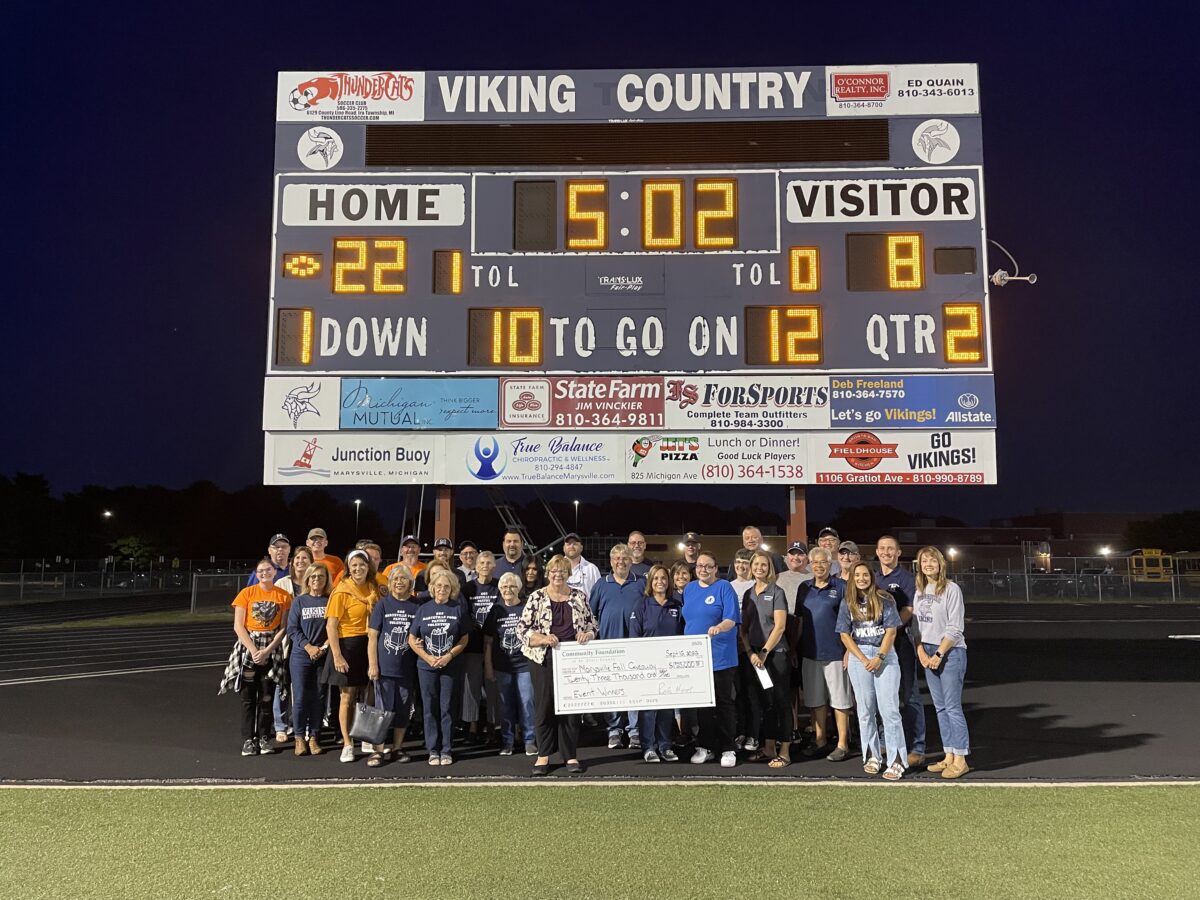 On Friday, our Marysville Community Fund Committee awarded $23,000 to 12 organizations and programs benefiting residents during the Fall Giveaway at the halftime of the high school football game.
"The purpose of this fund is to support programs, projects and organizations in Marysville, and to provide a collective way for the people who love this community to give back to it," said Kathy Hayman, a member of the Marysville Community Fund Committee. "So to be able to announce these grants at a gathering like the football game is a huge honor for us. This is a community celebration."
Established in 2015, the Marysville Community Fund is overseen by six residents who use their community knowledge to make grants like those awarded during the Fall Giveaway. Out of the 19 organizations that applied, 12 were selected for grants totaling $1,000, $2,500 or $5,000, the amount of which they were surprised with at the event.
The committee was able to select more winners for the giveaway thanks to a $2,500 gift into the fund from the DTE Foundation.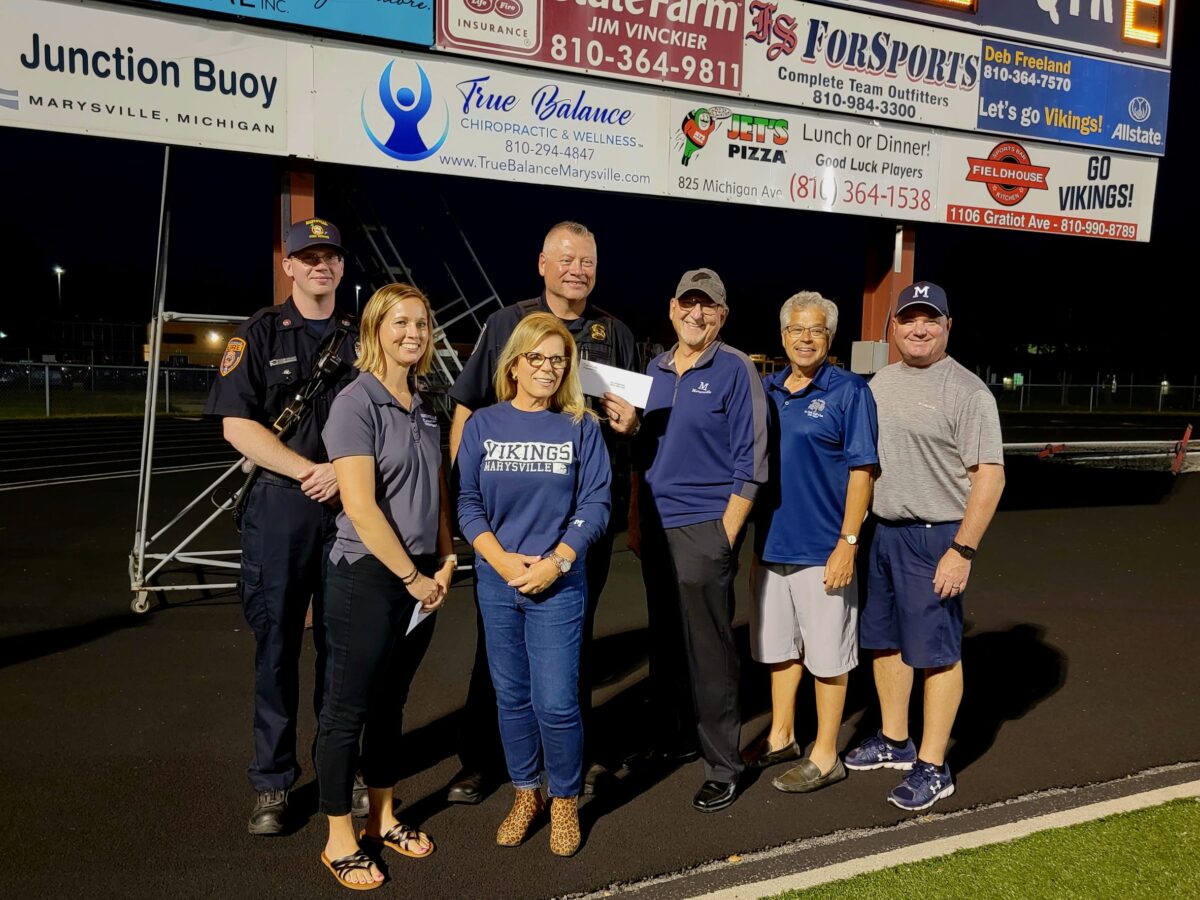 Grant Recipients
---
$5,000 Winners:
Marysville Lions Club
"Our Lions Club members appreciate the generosity of the Marysville Community Fund," said President Kirk Smith. "Receiving this grant will allow our Lions Club to continue serving our community. These funds will assist with affordable eye examinations, vision screenings, Leader Dog training, and eyeglass recycling. As we enter our 81st year serving Marysville, partnerships like this are essential to our residents!"
SOS Marysville Food Pantry
"Receiving support from the Marysville Community Fund will benefit all the people who depend on SOS Marysville Food Pantry for their food needs," said Carmela Burns, executive director of the food pantry. "We have seen a significant increase in need on a daily basis during the last several months. Family, seniors, veterans and the disabled are especially in need of help procuring food since they are on a limited income. This grant could not have come at a better time."
$2,500 Winners:
A Beautiful Me
"With this support from the Marysville Community Fund Fall Giveaway, A Beautiful Me is able to provide Marysville 5th grade girls at Gardens, Washington and Morton Elementary Schools an opportunity to build their confidence and self-esteem," said Executive Director Karen Palka. "Social and emotional learning enhances our youth to be better learners and positively contributing to our community! We are very grateful that Marysville is investing in their youth and that we can assist!"
Marysville Robotics Club
"Since the formation of the Marysville Robotics Programs and Marysville Robotics Club, our organization has received the positive support it has needed to thrive from the city of Marysville" said Jonathan Smith, robotics coach. "Being recognized by citizens of Marysville with this honor shows that our hard work and dedication has proven to be a positive light within our community and surrounding area. We hope to continue growing the bond that has been created and look forward to opportunities to work together in the future."   
$1,000 Winners:
Marysville Little League
"We are extremely honored and grateful to be selected as recipients," said Nick Thomas, president of the Marysville Little League. "To be recognized by fellow community members for what we're doing for the kids of this community makes it all worth it. These funds will be put to great use to improve the experience for all kids in Marysville Little League. Thank you for your support!"
Marysville Viking Regiment Boosters Club
"The support provided for the Marysville Bands program is amazing," said Misty Wisner. "During times when organizations are struggling to find funding, the Marysville residents continue to support the band whether through grants, fundraising, or attending concerts and competitions. Our band is loved by our community. Thank you for your continued support."
Marysville Junior Football Association
"The Marysville Junior Football and Cheer family would like to thank the Marysville Community Fund for their generous gift," said President Robert Beaton. "We plan on purchasing an AED (automated external defibrillator) with the gift money. We are delighted to be able to add an AED to all of our practices and games and thereby adding a life-saving device to help secure our players, coaches, and fans the best level of care."
City of Marysville Public Safety Dept.
"I would like to thank St. Clair County Community Foundation's Marysville Community Fund for the grant awarded to our Marysville Public Safety Program," said Deputy Chief Ed Gerrow. "Marysville Public Safety Explorers are both male and female youth from and around the Marysville area. Explorers are ages 14 to 20 interested in law enforcement and firefighting careers. With the shortage of new employees for both professions, this is an excellent way to recruit young adults in becoming part of the public safety work force.
"This grant will assist the explorers in obtaining the equipment needed to give these youth first-hand experience in firefighting and medical services," he added. "The program is a hands-on learning program geared to give them an up-close, first-hand look at our careers as law enforcement officers and fire fighters. Our community is very lucky to hand such an excellent program for our young up and coming career public safety professionals."
Marysville United Methodist Church
"It is such an honor to have been selected by members of the community to receive this grant," said Tracie Eschenberg, ministry coordinator. "We are always looking for new ways to serve the community of Marysville, and these funds will allow us to continue to provide family-friendly events where we can show the love of God through our actions."
Marysville Goodwill
"To be chosen as a recipient of the Marysville Community Fund Fall Giveaway means so much to the Marysville Goodwill, not only because of the support shown by the community, but for the support of our Person's Served and our programs," said Retail Manager John Middleton. "Goodwill works to enhance the dignity and quality of life of individuals and families by strengthening communities, eliminating barriers to opportunity, and helping people in need reach their full potential through learning and the power of work. This award will help in getting a van to transport the people we serve so they can participate in training at our Marysville retail store, and have an opportunity to give back to the community of Marysville while also changing their lives. Thank you!"
Marysville Youth Soccer Association
Excited for the support, MYSAMI President Nathan Wilcox said the funds will be put toward purchasing correctly-sized goalie nets for the U8 division, which will directly affect how they play. "They will have a better understanding of the game of soccer because they will be able to visually see the goalie net in front of them and have better hand-eye coordination."
City of Marysville Recreation Dept.
"The recreation department is very honored to receive this grant from the Marysville Endowment Fund," said Recreation Coordinator Stefanie Schneider. "We are always looking for ways to improve our amenities, but it cannot happen without local support, especially from organizations like the Community Foundation. Thank you!"