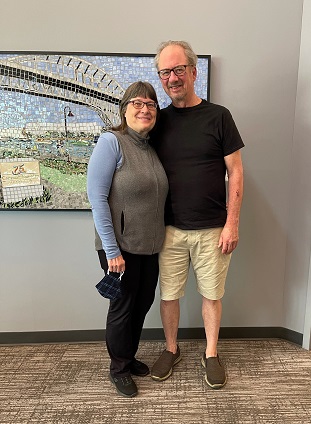 A new fund, "Welcome Immigrants, our New Neighbors" (WINN) will be launched during the Community Foundation's Big Give on June 9. 
This new endowment fund was established by Garth and Diane Kriewall of Port Huron out of respect for the first generation Americans who have shaped the thumbcoast region in the past, and the new immigrants who will continue that legacy of helping this area grow and prosper into the future.
Diane Kriewall said, "My grandparents came from Poland. They ran a supermarket in Detroit. They eventually bought a small, summer cottage in southeastern Michigan, and the first thing my grandfather would do when he got to the cottage was raise the American flag. He loved this country for the opportunities it offered him."
Just think of the legacy of Helen David, born to immigrants from Lebanon, who generously supported the People's Clinic and Council on Aging, or the generosity of our first generation American health-care professionals, such as the Community Foundation's chairwoman, Randa Jundi-Samman and her husband, Bashar.
"There is currently no locally dedicated organization for immigrants, but we know how important immigrants from around the world are to the health and growth of our community," Diane said. "Welcoming immigrants here is not just the right thing to do, it's the smart thing to do." You don't have to look far in our community to see shining examples of hard work, investment, and an opportunity to grow from people who are our neighbors and also first generation Americans. For instance, Nike and Laureta Gashaj from Albania who run the successful Nick's Four Roses. You may have met Kanchan and Mukund Wankhede, the local entrepreneurs who currently own three small businesses, a building in downtown Port Huron, and have had significant influence on Port Huron's entrepreneurial development as well as its arts and culture scene.
Looking back in history, we also celebrate people like Hieronymus Mueller, who was a refugee from the German revolutions of 1848. He fled to America, founded Mueller Brass and put plumbing in all our homes.
Let's not forget local favorite Sommelier, Andy Bakko, a first generation American from Iraq who has owned the downtown Port Huron staple Wolverine Market for more than 15 years and recently opened a wine bar as well. 
There are countless other generous and outstanding community members who call St. Clair County home, though they (or their parents) were born in a different country. Garth Kriewall said, "This fund seemed a logical and natural next step for us to support future community members in a way that we would have wanted our family members — who are immigrants, and children of immigrants — to have been supported."
Garth and Diane made a major gift to start the "Welcome Immigrants, Our New Neighbors," endowed fund and invite you to support it during the Big Give on June 9. The Kriewalls have kept the mission of this fund broad enough to address the ever-changing needs and different opportunities for immigrants in our county as they arise over time. All gifts to this fund on June 9 will further this cause.
(Link to the Big Give page for the fund) https://www.thebiggivescc.com/organizations/welcome-immigrants-our-new-neighbors