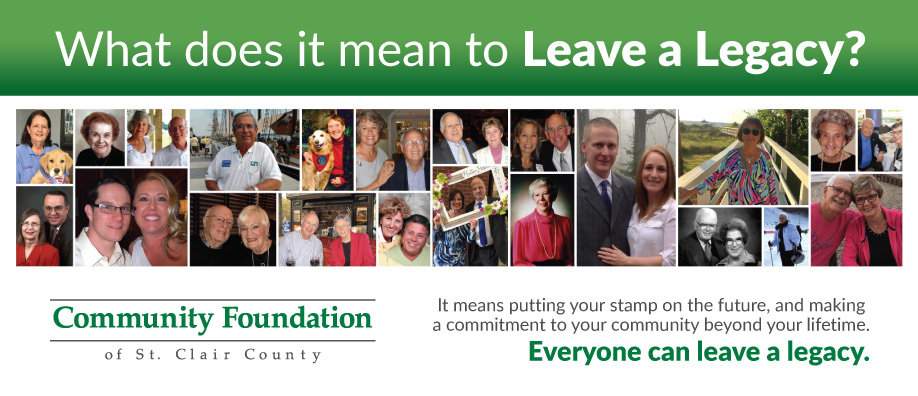 Our Legacy Society recognizes and honors those donors who have made plans through their estate to give back to the community through the Community Foundation. We are grateful for their foresight, dedication and philanthropic spirit.
Members of our Legacy Society recognize the importance of making a future gift through the foundation. Your thoughtful planning can encourage others to do so as well. Your planning today will benefit our community for generations to come!
Our Legacy Society recognizes and forever honors the names and spirit of our donors. Joining can be as simple as informing the Community Foundation of your intention to make an estate gift. Download and return the Letter of Intent or contact Jackie Hanton at 810-984-4761 or jackie@stclairfoundation.org for more information.
Planning Your Legacy
You can support the arts, enrich education, promote community development, foster a stronger community… tell us what is important to you.
Must I give a large portion of my estate to join the Legacy Society?
No. We value and appreciate all gifts, and believe the best gift is the one that's right for you. To be recognized as a Legacy Society member you only need to indicate that you have included the Community Foundation as part of your estate plan.
How do I give through my estate?
Bequest in your WillBequest in your TrustBeneficiary designation in your IRA, 401(k) or other employee benefit plan, or life insurance
We provide confidential philanthropic services to prospective donors and their advisors, without pressure or obligation.
Planning an estate gift allows you to strategically accomplish both financial and charitable objectives. For some people, a large charitable gift during your lifetime can be financially uncomfortable because you may be uncertain about your health, wealth, and personal commitments.
Downloads
Legacy Society Letter of Intent