The Community Foundation will now carry Mickey and Agnes Knowlton's charitable legacy forward through a significant endowment fund and the Knowlton Museum. The Knowlton Family Private Foundation officially gifted all of its assets to the Community Foundation at the end of 2020.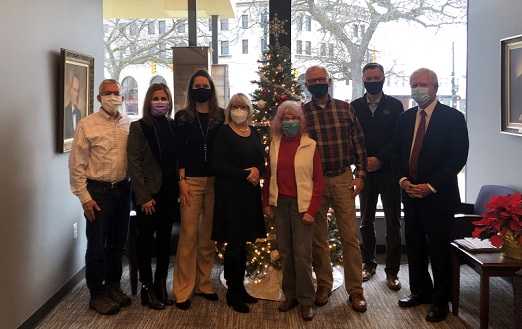 "We appreciate, respect, and are honored by the Knowlton family's trust in the Community Foundation to steward the endowment funds and care for the collection of Mickey and Agnes Knowlton," said Dr. Randa Jundi-Samman, Community Foundation Board Chair.
The Knowlton Museum is in an optimal location in downtown Port Huron. The recently announced Wrigley Center will take shape across the street and will provide exciting opportunities in the future to engage the Knowlton Museum space as the foot traffic and entertainment opportunities in downtown continue to expand.
"As the Community Foundation continues to own real estate and be part of our region's economic growth and prosperity, the Museum is another prime opportunity to collaborate with local partners and organizations to make our region more prosperous," said Jundi-Samman. Last month the Foundation announced it was investing $350,000 into the Wrigley Center project as a part of an $11 million dollar overall redevelopment of the former Art Van building.
The Knowlton family's relationship with the Community Foundation began back in 2008 when Mickey Knowlton established the "Mickey & Agnes Knowlton Endowment Fund." "Though I watched my parents gather the ice museum collection from around the country, and even helped acquire some of the pieces myself, our family needed the Community Foundation to provide long-term care and oversight of the collections and the endowment fund," said Chuck Knowlton, son of Mickey and Agnes.
"Our family will continue to give back to the community through our various charitable funds at the Community foundation, but we will rest easier knowing the Museum building, collection and endowment is in good hands."
The Community Foundation has been helping donors achieve their charitable goals for over 75 years and owns several pieces of real estate and buildings throughout the region. Assisting donors and their advisors to work through complicated estate gifts, accepting gifts of complex assets, and the dissolution of private foundations are all part of the philanthropic services provided by the Foundation.
The Knowlton Ice Museum will continue to operate in a similar fashion to what the public has become accustomed to for the time being. The Ice Museum was created by Mickey and Agnes Knowlton in 2000, though the collection has been open to the public since 1987. The museum has claimed to be the largest collection of ice-making equipment and memorabilia in the U.S. There are thousands of items, including ice-cutting tools dredged from the bottoms of lakes and rivers.