We are sad to say goodbye to our friend and SC4 Foundation past president, Jim Bonadio.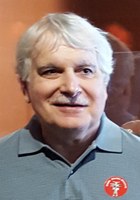 Jim was raised in Port Huron, and graduated from Port Huron High School in 1964. He went on to Adrian College and then taught fifth and sixth grade in Hudson, Michigan, until 1971. Jim returned to Port Huron and worked for Ned Hubbell and Associates, before becoming director of Downtown Port Huron, and later a manager at Port Huron's Arden's.
Our own Community Foundation historian, Marty Weiss, worked with Jim those many years ago at Port Huron's iconic downtown department store and remained friends with him after Jim left Arden's. "Jim had a wonderful personality," said Weiss. "He loved people and related to them very well. He really had a great sense of humor."
Jim went on to join Equitable in 1980 as a registered representative and retired from the company in 2014. It was working in a women's clothing store, Weiss said, where he was able to build relationships with local teachers that led to the success of his insurance business.
After his retirement, Jim continued to serve the community as a volunteer, including as past president and member of the SC4 Foundation and as a member of the Port Huron Business Association, where he was inducted into their Hall of Fame in 2015.
Bob Moak, SC4 Foundation member and also a past president, served alongside Jim. "They don't come any better," said Moak. "Jim did a great job on the SC4 Foundation and was just a great all-around citizen"
Jim is remembered as a devoted worker who enjoyed meeting with his clients and providing them with excellent service. Honesty and hard work were two qualities he held dearly, winning numerous awards for his productivity.
"He was very successful at what he did," recalled Weiss. "He was a great person. He will definitely be missed by many in our community"