Today is a very significant day in our history; the Port Huron District Foundation was incorporated on November 8, 1944, which is now known as the Community Foundation of St. Clair County. For nearly 80 years we have been a monumental part of the community, with so many great leaders helping to make our community thrive.
As we lead up to our 80th Anniversary celebration where we will proudly honor Donna Niester and Chuck Kelly with Distinguished Service Awards, we also want to celebrate and share stories of other remarkable role models and leaders. So, over these next few months we're going to share past stories of other amazing community leaders.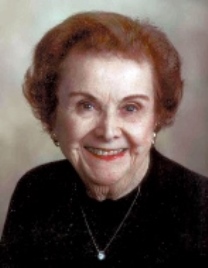 Born and raised in Port Huron in the early 1900's to immigrants from Lebanon, Helen David was a trailblazer for her time. She left a charitable legacy long before studies began focusing on the giving trends of women and the rise of female philanthropists. Along with her keen sense of business she was an incredibly kind and generous women. Helen learned the value of hard work but also the importance of giving back to the community.
"Helen truly was one of Port Huron's icons!" said Chuck Kelly. "Her Brass Rail Bar was a must stop particularly during the holiday season, but the real draw was Helen. With her great and genuine personal warmth, she profoundly loved, supported and worked for our community her entire life."
Helen David was honored with the Foundation's lifetime achievement award at their annual dinner in 2003. Randy Maiers, who had just moved to the area the year before, has a vivid memory of Helen. "It didn't take me long to realize she was the 'queen' of Port Huron," he said. "And in fact, that's exactly how I introduced her when we gave her the lifetime achievement award."
Helen loved helping people and welcomed everyone to the Brass Rail. She was as famous for her support of local hockey as she was for her Tom and Jerrys that became a staple of holiday traditions in Port Huron. When she wasn't busy at the bar or serving as a leader in our community, she was fishing, golfing, bowling, or playing baseball. Helen was a free spirit who enjoyed life to the fullest.
Port Huron Mayor Pauline Repp knew Helen for many years. "She was an icon in downtown Port Huron," she recalled fondly. "I remember her always sitting at the end of the bar and greeting customers at the Brass Rail. She loved Port Huron and committed herself to seeing downtown prosper. I always thought of her as "the grand lady" of the downtown."
While Helen left her mark on Port Huron with the popular holiday potion, her impact goes far beyond the four walls of the Brass Rail. Helen became an involved figure in the community known to many as "the heart and soul of Port Huron." The number of committees and organizations Helen provided leadership for was more than a few. She was president and a member of Downtown Port Huron, Inc. and later the Downtown Development Authority. She was on the Blue Water Economic Forum and on the committee for the Senior Citizens Center. She was also a past president of the Mercy Hospital Auxiliary Board.
In addition to these influential roles, Helen involved herself in various charitable projects for the United Way, Muscular Dystrophy, New Catholic Central High School, Chamber of Commerce and Tourist Bureau, Senior Citizens causes and the People's Clinic (just to name a few).
Her hard work and community involvement did not go unnoticed. Helen won the accolades of many organizations and individuals with awards including:

• 1974 Chamber of Commerce Outstanding Service Award
• 1975 Humanitarian of the Year award from the American-Lebanese-Syrian Club
• 1985 Woman of the Year Award
• 1986 Spirit of Port Huron Award
• 1987 Sports Hall of Fame Award
• 1999 Women of Distinction Award by the Blue Water Council of Girl Scouts
While Helen David passed away in July 2006, her legacy continues through the Helen David Fund for Council on Aging, the Helen David Fund for People's Clinic and the Quota International Helen David Fund. David used gifts from her estate to create these funds and benefit organizations that were near and dear to her heart.
Since her funds were created, they have provided over $300,000 in total support to her favorite organizations.
"The beauty of Helen's endowment funds is that these organizations can depend on continued support for decades to come," added Maiers. "That is the essence of philanthropy; planning ahead for what comes next."
Helen forged her own path, leaving a legacy of generosity and leadership that will forever be remembered by the community.
Our 80th Anniversary will celebrate those in the community that have made a difference and provided momentum for future generations. Please plan to join us for our anniversary celebration that will take place May 16, 2024, at the Blue Water Convention Center. Tickets will be available the first part of 2024.