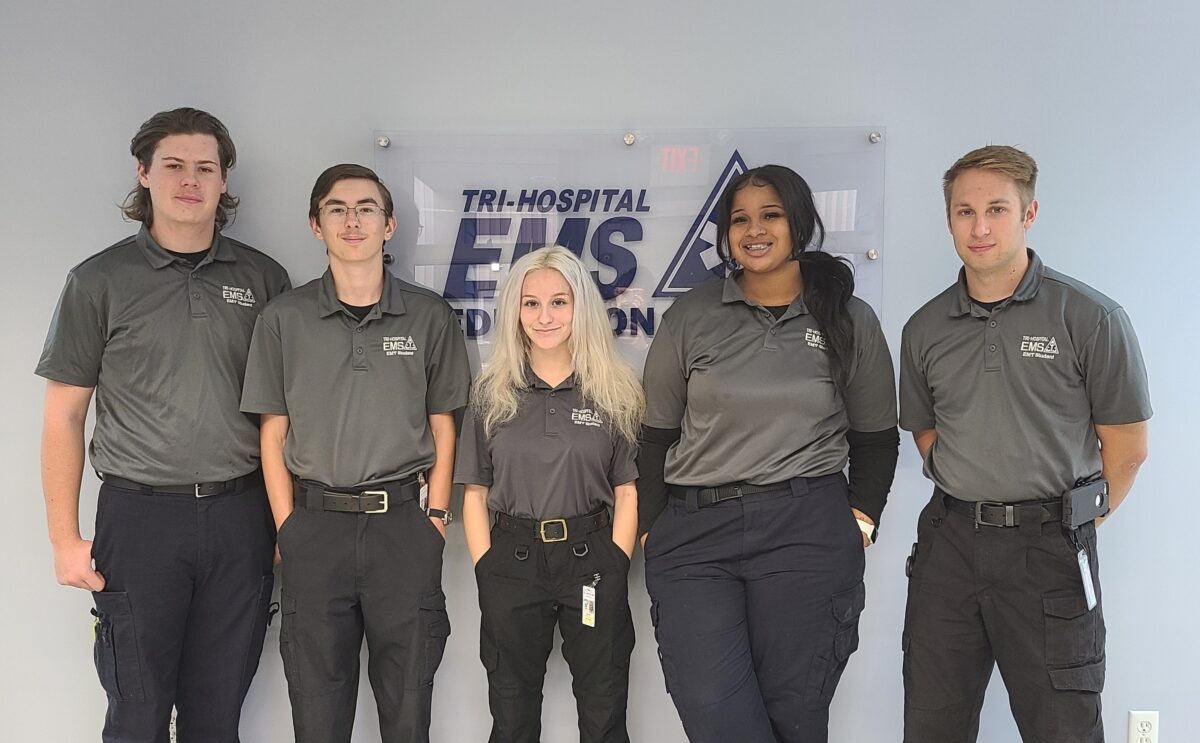 Port Huron High School senior Kimora Price has been in and out of hospitals receiving treatment for her sickle cell disease. This exposure to the healthcare field prompted her to join St. Clair TEC and later the Tri-Hospital EMT program for her internship.
"It's my turn to help people and make sure that they're OK," Kimora said. "Give out the same help that I've received."
Kimora and four other second-year health career TEC students are participating in the Basic EMT program thanks in part to a $3,000 grant to Tri-Hospital EMS from the Community Foundation's Emily Bigelow Emergency Services Fund. Established in 2007, this fund provides support for the special programs, projects and needs of organizations in St. Clair County that provide emergency response services for people and animals.
And due to their long-standing partnership, Tri-Hospital EMS further discounted the out-of-pocket costs of the program for the St. Clair TEC students, who also attend Yale, St. Clair and Port Huron area high schools.
"The partnership between Tri-Hospital EMS and the St. Clair County TEC program has been lucrative and integral for our staffing over the years," said Karyn Belanger, vice president of clinical care at Tri-Hospital EMS. "We have had many TEC students that have taken our education programs, gotten licensed, and then have come to work with us. We still employ most of them. Several have gone on to get their paramedic licenses as well.
"The grant from Community Foundation helped to decrease the financial burden on the students and their families, and allowed them to get a meaningful education at a reduced price," Karyn added. "It's a great way to introduce people into a healthcare career where they can gain on-the-job skills training while simultaneously taking the course without putting them into debt."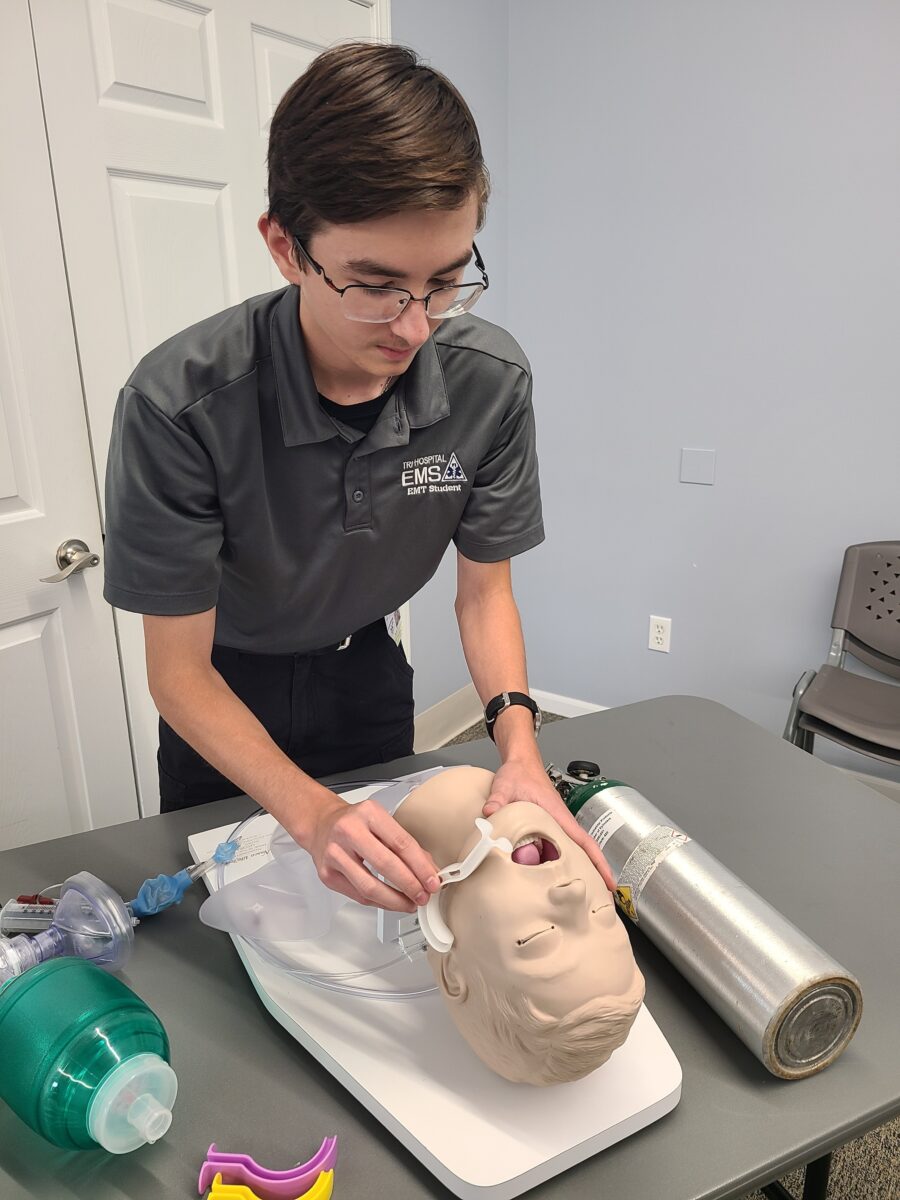 Kimora said the grant is a huge help for her and her mother, who is blind and can't work, because it is no longer a stress load trying to come up with the money. Fellow TEC classmates Seth Vincent and Tyler Cook, who are both seniors at Yale High School, share her feelings. The rising costs of everything else makes them especially grateful for the reduced program price.
"The grant was extremely helpful in lowering the price, making sure that I'll be able to pay for it without struggling to pay for it," Tyler said.
Instead, the five students get to focus on their internship, which consists of riding on an ambulance an average of 15 hours per week while also taking part in the EMT course that started in September and ends in January. The students go to class two nights a week and will have three Saturday classes throughout the course as well. During class they have to meet the requirements of the EMT course by doing an additional 40 hours of ride time and 16 hours in the ER.
A month into the program, Kimora, Seth and Tyler all said they are currently focusing on the basics, such as how to communicate to patients and how to interact with them in different scenarios like stopping bleeding, getting them breathing again, hooking patients up to monitors and taking blood pressure.
"It's more of the basic stuff, but it helps the medic get everything done – especially when it's a higher priority patient," Tyler said. "And we're also able to help the medic get supplies they need."
The ride time is something they appreciate about the program, being able to respond to real life, everyday calls.
"It's kind of crazy to think that we're all in 12th grade and we're going on ambulances and actually helping the medics….It drew me here," Tyler said.
"It definitely helps not just going to a classroom, going to a fake ambulance with fake scenarios," Seth added. "What's awesome about the grant also is just being able to get that hands-on experience with everyday calls of things that are actually happening. It's awesome that we get the experience in before this is something that we do full-time."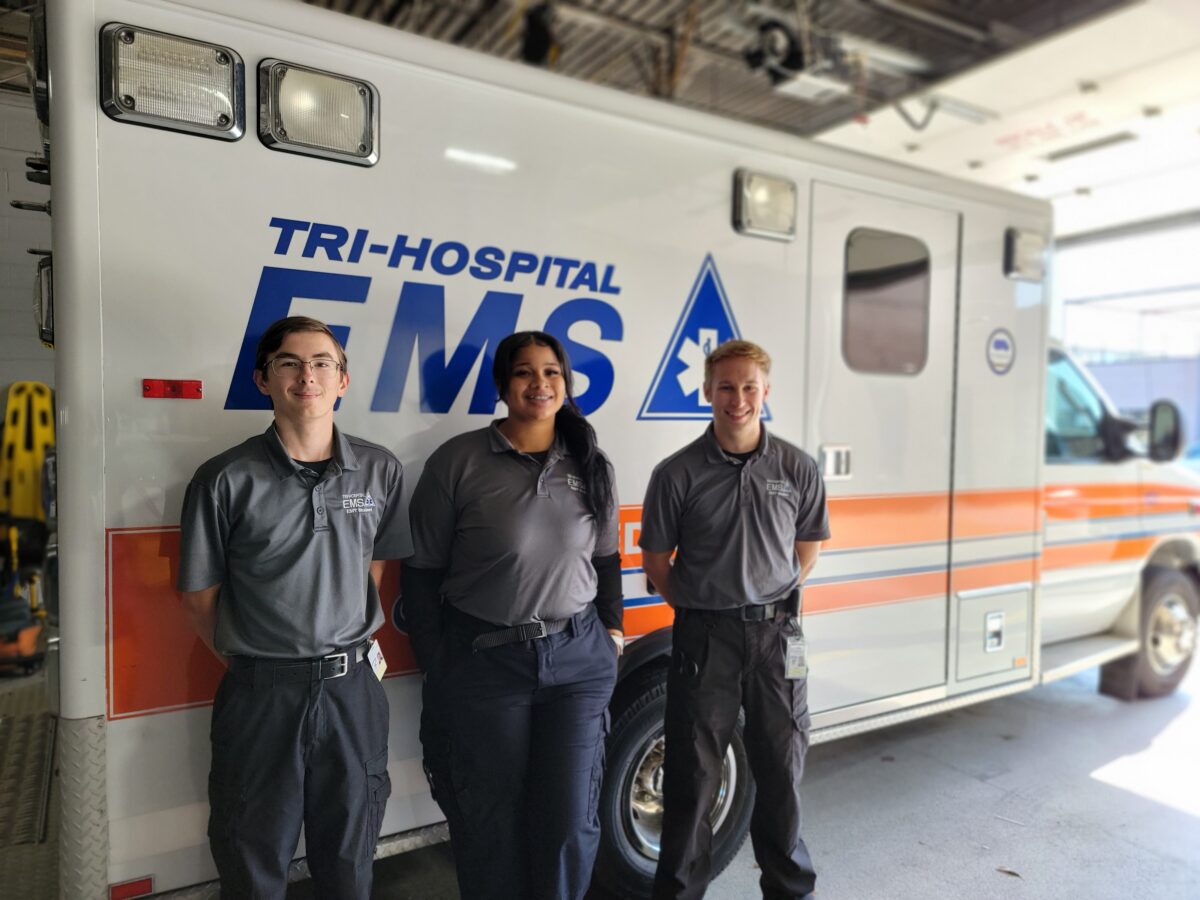 Once the students complete and pass the course they will be certified EMTs. In order to become licensed EMTs and get hired on, they have to take the National Registry of EMT (NREMT) exam, which Kimora, Seth and Tyler plan to do.
"I've always had a passion for helping people," Seth said. "I've always liked just being able to respond if someone needs helps or anything. I always like being in there, being able to do what I can."
After the course is finished, Seth would like to work for Tri-Hospital as an EMT and eventually become a paramedic. He may also attend the fire or police academy.
Tyler's end-goal is similar since he wants to be a public safety officer. He said this program is helping him get classes he needs done early. By the time he graduates high school, he will be an EMT and hopes to move on to the paramedic class. He will then go through the police and fire academy, ultimately ending up with a department that supports public safety officers.
And while Kimora's ultimate goal is to become a registered nurse, she likes the fast-paced action and being the first on scene to help, so plans to work as an EMT to put herself through SC4's associate degree in nursing program.