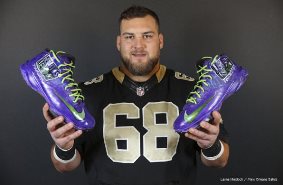 With the NFL's My Cause, My Cleats campaign comes a new youth fund to the Community Foundation.
Lelito's Legacy Foundation was created by Tim Lelito, former NFL offensive lineman, and provides opportunities for youth to promote skill development, sportsmanship and positive self-growth. Lelito's Legacy Foundation seeks to better the lives of children with adversities greater than they can overcome by themselves through sports.
Tim is a St. Clair County native, originally from Fowlerville, and moved to St. Clair after 9th grade. He played for the St. Clair Saints his junior and senior year and earned All-Area, All-Conference, All-Metro East awards both years.
As an Undrafted Free Agent, Tim had a lot to prove. Only guaranteed a tryout, Lelito made it through 70 Free Agents and Rookies all the way down to 20 players by the end of Rookie Mini Camp. Then again, at the start of Training Camp, when the team cut 90 guys all the way down to the 53 man roster.
Tim has started two games in 2013 for the Saints. His first NFL start was against the Arizona Cardinals. In his second season with the Saints, he started 2 games and continues to leave it all on the field for the team. Tim is truly committed to the sport and his team.
Read more of Tim's story here.
The foundation runs a very successful football camp and will also begin grant making for youth in sports (not just football) this year.
Support the Lelito's Legacy Foundation vision of promoting skill development, sportsmanship, and positive self-growth by donating today.
Follow Tim on Twitter: @Timlelito68