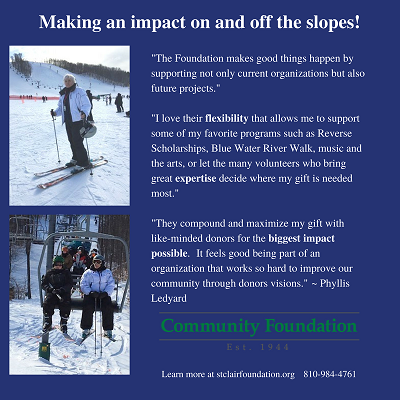 When you hear the name Phyllis Ledyard it might ring a bell because of the important work she has carried out with the Community Foundation since 2005.
Phyllis was a committed and active member of the Blue Water Arts Committee for nearly nine years, just recently retiring from her role. She has also been an influential and active part of the Women's Initiative, an emerald circle member, since the early years of the group's creation.
As a Legacy Society member, Phyllis also believes in the importance of giving back to the community through future planned gifts from her estate. Her thoughtful planning has certainly encouraged others to do so as well.
Phyllis also served as a Trustee on the Community Foundation Board from 2009-2019 and was involved in many of the Community Foundation's other committees, such as governance and grants.
Aside from the vast hours volunteered, Phyllis has also been a community partner, donor and friend. "I love the Foundation's flexibility that allows me to support some of my favorite programs, such as the Come Home Award (Reverse Scholarships), the Blue Water River Walk, music and the arts, or letting the many volunteers who bring great expertise to the committees decide where my gift is needed most," said Ledyard.
We are so grateful for Phyllis's leadership, hundreds of volunteer hours, gifts and friendship over the years. Join us in thanking Phyllis for her continued support of the Community Foundation, she will be missed on our committees.