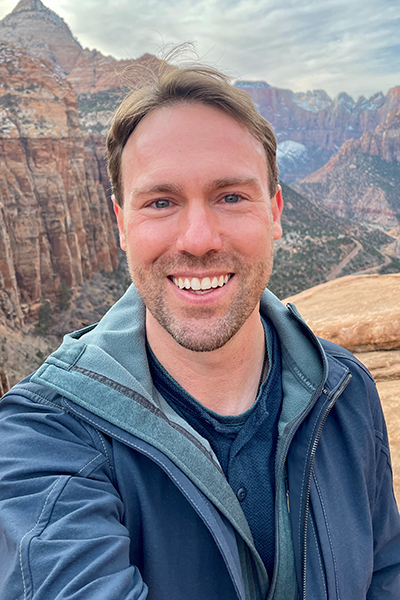 Donor and former Community Foundation scholarship recipient Chris Penzien continues to make an impact on St. Clair County and the Community Foundation thanks to a charitable program through his employer.
"Everybody wants to live in a nice community that they're proud of and everybody has to have responsibility for that," Chris said. "I think the Community Foundation helps provide a way for people to become involved in making their community stronger."
Chris grew up in Capac and moved to Port Huron during high school where he attended Port Huron Northern. He was selected as a scholarship recipient of the Howard A. Acheson Memorial Fund and went on to receive his bachelor's degree at Grand Valley State University and later his master's degree at Northwestern University.
"Between the scholarships that I was able to get from Grand Valley plus the Acheson scholarship, it basically worked out to being a full ride," Chris said. "Graduating without that debt was amazing and it also allowed me to not have to work so I could focus on school."
Chris has since relocated to New York and currently works as a Director of Quality with Perrigo, a pharmaceutical company. He regularly gives back in his new region but continues to support nonprofits in Michigan such as the Community Foundation.
"There's no metropolis in St. Clair County, so people can come together and really see the difference that they're able to make and it helps foster a very strong sense of community," Chris said.
In 2018, Chis helped to implement a community service team at the New York site after being inspired by a charitable program at his previous location where the employer matched employee charitable contributions dollar-for-dollar. Chris said during 2021, 103 employees participated in the program raising a total of $63,200 for charities with Perrigo's match.
He uses the program as a way to maximize his impact with his own giving and contributes equally to the Howard A. Acheson Memorial Fund, his former scholarship, and the Acheson Community Foundation Fund.
"Many community members might not know about the breadth that the Community Foundation is involved in," Chris said. "I like its holistic approach and how it's supporting the community through initiatives like education, beautification, youth leadership development or talent being brought back to the area."
Through the charitable programs offered by employers, donors such as Chris can make an even greater impact with their giving. To learn about giving opportunities available at the Community Foundation, visit stclairfoundation.org/giving-center.