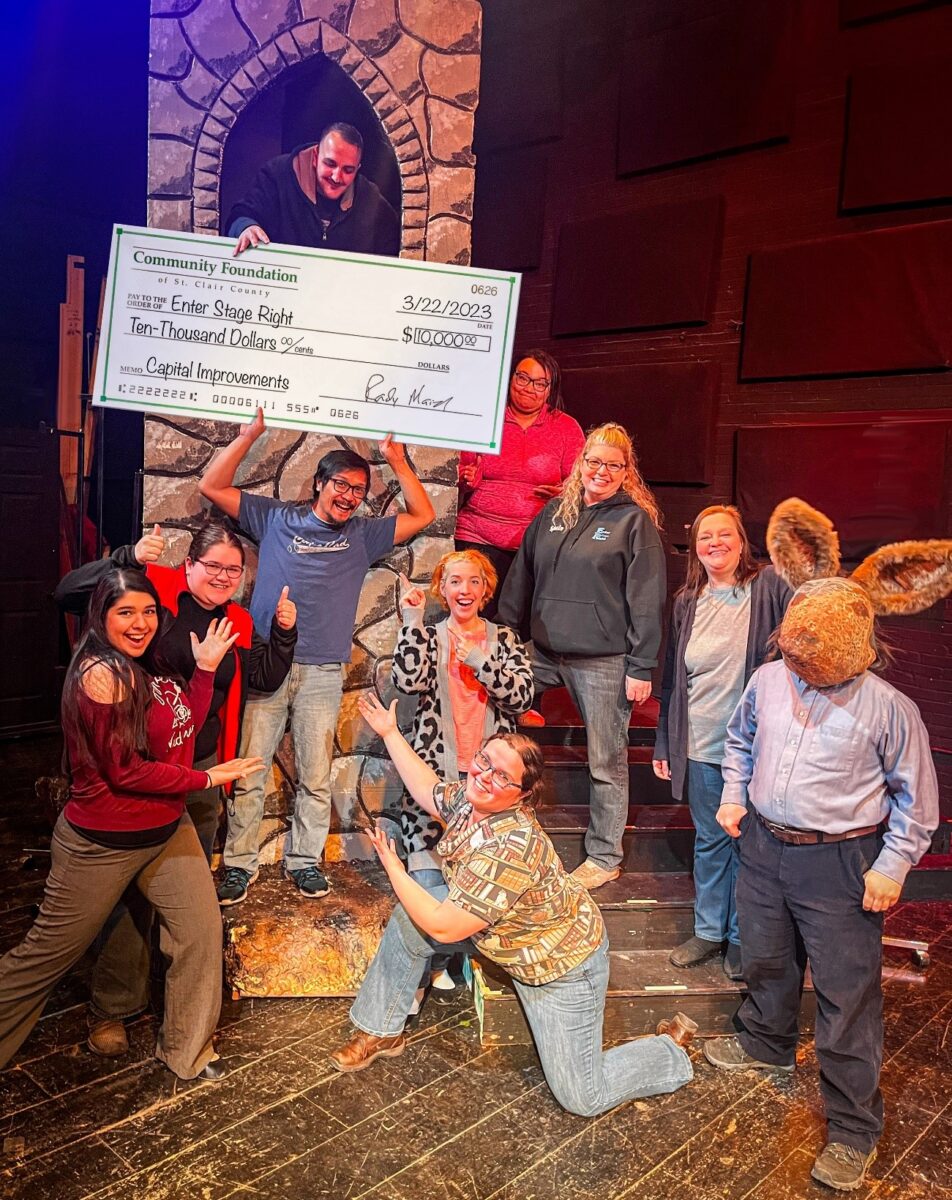 Enter Stage Right (ESR) has been a fixture in the Port Huron theater scene for almost two decades. Founded in 2004, the theater company has grown from humble beginnings into a thriving arts organization that brings people of all ages, backgrounds, and abilities together to share in the magic of live theater.
A recent $10,000 grant from the Blue Water Arts Committee of the Community Foundation of St. Clair County will help them leverage other grant dollars to make improvements to their theater. "Enter Stage Right has been a fixture in downtown Port Huron for quite a while now," said Randy Maiers, president of the Community Foundation. "They are one of the reasons the Citadel building is such an important asset to this area, and we're happy that our Arts Committee was able to provide some grant funding to them."
When you step into ESR's black box theater, The Citadel Stage, located in downtown Port Huron, you can't help but be awestruck by the past production posters signed by the cast members. These posters represent chapters of ESR's story of perseverance and creativity, and watching Regina Spain, a founding member and Executive Director of ESR, remember them fondly, you can see the pride she has in the company's legacy.
ESR's first act began in 2004 when the founders met while running the theater programming for Marysville Recreation department. After a few years of children's productions, there was so much interest in adult engagement that they formed a limited partnership which evolved into the 501c3 entity that exists today.
In 2014, ESR was engaged by the Economic Development Agency to find a permanent home, and the Witt family's revitalization of downtown buildings led to the creation of The Citadel Stage. Since then, ESR has put on approximately eleven productions per year, most of which consist of all-ages casts while a handful are adults-only. They also offer theatre-based classes, workshops, and outreach for all ages, backgrounds, and abilities.
However, with aging equipment and technology, ESR needed to invest in upgrades to lighting, sound, and theatre seating. They applied for and received a Michigan Arts & Culture Capital (MACC) improvement grant with a requirement for matching funds. The Community Foundations Blue Water Arts Council approved the grant request, seeing the value in investing in ESR's longevity and profitability.
The grant funds will be used to purchase new audience seating risers. The movable risers are an essential component of the theater's black box functionality, and they can be reconfigured to suit a variety of stage settings. Equipped with casters, the new risers will be easily movable, even when fully loaded with chairs.
ESR will acquire a retractable screen that can be utilized during performances to showcase crucial information to the audience, including intermission times, production sponsors, and upcoming shows. The theater will invest in up-to-date lighting and sound equipment to enhance the audience experience and complement the actors' performances.
Additionally, ESR will allocate funds to purchase a foldable emergency ramp that can be deployed to traverse the two-step exit in the event of a fire. This feature will ensure the safety of the theater's patrons without compromising the quality of the performance.
Finally, to safeguard these investments, ESR will acquire a 6-camera security system that will help secure the premises going forward.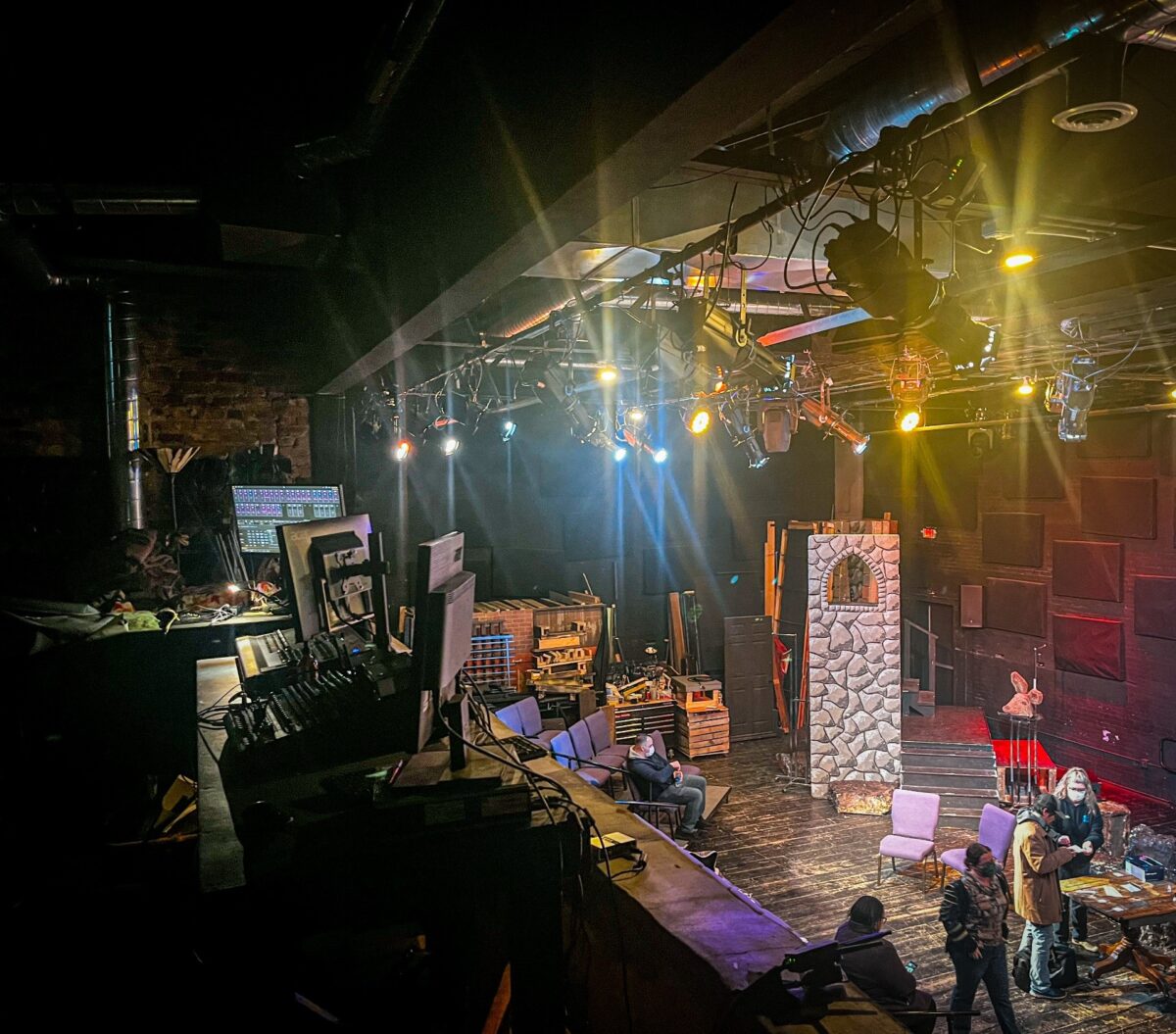 Regina Spain speaks of ESR's legacy in terms of engaging local talent from all walks of life. Many people come to ESR broken, only to find their voice and a community of people who embrace them. "We don't do divas. Everyone is appreciated here," Regina said. "If someone doesn't show up to do their part, then we have no show. It takes all hands on deck."
Partnerships and sharing of talent, props, and costumes with other local theater companies such as Port Huron Civic Theater and The Barn are common occurrences, and ESR is proud to be a part of the thriving Port Huron theater scene.
ESR's next production, Into the Woods, premieres on April 14, 2023. For a full schedule of theater productions, ongoing workshops, and upcoming community outreach projects, stay informed by going to enterstageright.org. As ESR continues to grow and thrive, it remains a beacon of creativity, perseverance, and community in the Port Huron area.
The Blue Water Arts Committee of the Community Foundation is one of many grantmaking committees under the Foundation's philanthropic umbrella, but it has a specific focus area on arts and culture. It provides grants to programs, projects and organizations throughout the region.
Grant application details can be found via this link.