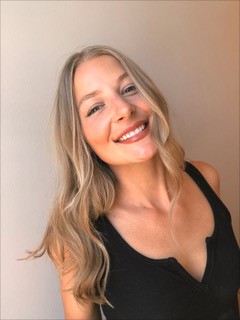 When Cecelia Shuler graduated from St. Clair County Community College with her associate in therapeutic massage in May of 2019 she didn't know she would end up as an entrepreneur and downtown staple, but she did know she wanted to showcase her skills on the world stage.
"I had set out to compete in Copenhagen, Denmark for the International Massage Association's World Championship in 2020, but due to the pandemic this was cancelled," she said. "So I took some time away from massage to almost 'grief' what I felt was lost after training towards competition for over a year prior to the shutdown. I have since resumed the practice."
She currently works as both a traveling massage therapist and in-office once a week inside Crawford Cosmetics in downtown Port Huron. But during her break, Cecelia started focusing more on self care – for herself and her clients.
"I had already been making bath salts, scrubs and oil blends for my clients, but when the shutdown began I quickly learned of a void to fill," she said.
Named after the bamboo sticks and stones used in her signature massage, her business Sylva & Stone allowed Cecelia to not only get additional income during a time when massage work was scarce, it also encouraged people to get up and care for themselves during a low and scary time. The brand offered sleep and loungewear items and other self care essentials.
With Sylva & Stone, Cecelia discovered a newfound passion for business and branding, which she went on to combine with her life-long love of photography, modeling and all things downtown – she has lived in downtown Port Huron for the past five years. She established Downtown Imaging Co. in 2021 and began working with dozens of local businesses to showcase their brand in a professional light.
Being an entrepreneur and massage therapist aren't the only things Cecelia has on her plate nowadays. She also stays active in the community with groups like UNLABEL'd, which she co-founded with Ashlind May and Demiree Fultz.
The three of them met up in April 2021 to talk about all the good in their lives and to try to bring back positivity to the community after isolating so long. When they shared with friends about the three of them meeting up more wanted to join them, so they set a meeting for the following month. More ladies continued to join, and by December of that year they had 70 women in Kate's Downtown for their now annual formal cocktail event.
"There is no 'label' to join," Cecelia said. "You don't have to own a business, you don't have to be a mom, etcetera. We have women of all ages and all walks of life that come together each month, hang out, talk about the good, and build each other up through the lows."
She said the group took off so well because there was a void of women connection. Being supported as a student at SC4 and connected with Community Foundation staff also led to more community involvement.
Cecelia acknowledges the Douglas & Elda Webb Scholarship through the Complete Your Degree program helped her more than many know. Staff not only helped her pay for classes, we also helped her succeed and complete her degree. She only took one semester within the program, but she was taking a year's worth of classes in that semester and had to significantly limit her workload.
"Two short months after beginning, my boyfriend [singer Alex Shier] and I learned he had to undergo a vocal surgery, which would force him to not speak for the following six weeks," she said. "This meant that the both of us were now limited for work, and the CYD scholarship team stepped in and kept the lights on that month – literally."
That support opened her eyes about the importance of scholarships that go beyond tuition and books. After finishing her degree, she immediately began fundraising to donate back to the scholarship. And Cecelia continues to give back to the Community Foundation as a current member of our Grants Committee.
"When I was asked to be a part of the Grants Committee, I was excited and honored," she said. "To be able to have an inside view and a voice in what's happening in the community is truly amazing. I learn something new at every meeting, and genuinely look forward to seeing everyone!"
---
You can keep up with Cecelia's downtown life on her Instagram page and view her photography portfolio here.