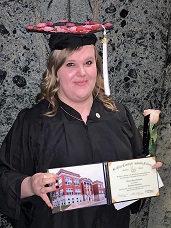 Last night Marine City native Nikki Leonard achieved a lifelong dream as she walked across the stage of SC4's Fine Arts Theatre – she became a nurse. She also became the second Complete Your Degree graduate.

"I would not have been able to finish this year without the support from the CYD program," Leonard said. "They have helped me both financially and emotionally this year and I am beyond grateful."
Launched in fall of 2017, CYD is a scholarship program that goes beyond providing just tuition and book support for SC4 students pursuing an associate degree or certification.
It also helps remove barriers to degree completion by providing financial support for a wide range of "life needs" to students accepted into the program. Life needs support includes helping CYD participants overcome temporary obstacles such as food, clothing, medical care, transportation, daycare and housing.
They also have access to a success coach who can help connect them to additional resources on the SC4 campus or in the community.
"Complete Your Degree is one part of our three-fold approach for student success," said Donna Niester, CYD committee chair. "It's important to not only help students get into college, but help them succeed while they're there."
Leonard has been a CYD participant since December 2017, when she was accepted into SC4's Licensed Practical Nursing (LPN) program. She was able to earn her certification thanks to financial support from CYD and its Alexander & Celestine Lamere Fund.
The Lamere fund was established in 2009 by the couple to provide support to graduates of Marine City High School attending SC4.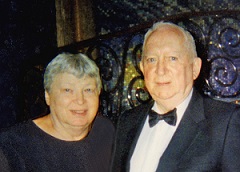 Celestine was a teacher for over 30 years and spent her entire career at the elementary school in Marine City. Through hard work and educated investing, Alexander, who was an electrician, and Celestine were able to leave the Community Foundation more than $2.3 million via their estate.
Thanks to the couple's generosity, CYD has been able to accept 100 percent of applicants who qualify for the program under the Lamere criteria. Between the Marine City recipients and other CYD students the program is at capacity.
Leonard graduated from Marine City High School in 2012 and a couple years later attended SC4 to become a Certified Nurse Aide. After this year, she can now take her career to the next level.
"I've known I wanted to be a nurse since I was a little girl," Leonard said. "Caring for people and helping is something I've always loved to do. I am grateful to be able to make a career out of it."
Learn more about Leonard's journey in The Keel article.

The Community Foundation's CYD program is made possible with support from multiple organizations and individuals in the region, but especially by our friends and partners at St. Clair County Community College and the Ralph C. Wilson, Jr. Foundation.