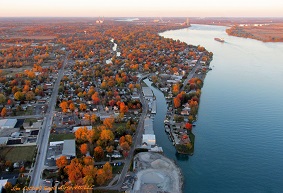 The Community Foundation recently approved three grants in Marine City, including $45,000 to support the development of a new $377,000 marina project.   The other two grants of $10,000 each will support planning and engineering for the City's initial work on the Bridge to Bay Trail as well as efforts to continue restoration work on the old Marine City Hall building at the north end of town.
"The residents, businesses and stakeholders of Marine City are very excited," said Laura Scaccia, Board Chair, Marine City Community & Economic Development Board. "The marina project was recently voted the #1 regional priority by the Blue Meets Green Coalition, and we're proud that our Community Foundation factors that ranking into their grant awards."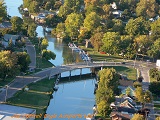 The Community Foundation's funding will be the final layer of financing in a complicated project to acquire riverfront property on the Belle River, close to the downtown. The City is working closely with Six Rivers Land Conservancy on the development of the marina, which will be the first new marina added to the Blue Water Region in many years. The new marina and the addition of transient docking will be developing an otherwise under-utilized stretch of waterfront consisting of almost 600 feet of frontage.
"These unique downtown assets are critical to our region's growth," said Randy Maiers, president & CEO of the Community Foundation. "When we factored in the unique chance to help add a new marina, plus work on the gaps of the Bridge to Bay trail project and the landmark anchor on the north end of town, these were three projects that we really wanted to be involved in."
The Community Foundation has been an original partner in the Blue Meets Green Coalition since its launch ten years ago. While the new Marine City Marina project is currently the new top priority for Blue Meets Green, the multi-million dollar and multi-year effort to finish the gaps in the Bridge to Bay Trail system is an ongoing priority of Blue Meets Green.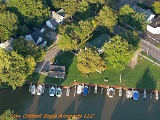 According to the Community Foundation, which is the fiduciary for all phase one projects of the Bridge to Bay Trail plan, their attention and that of the Regional Trails Governing Board is now turning south to Marine City and on to Algonac and Clay.
"Thanks to the Ralph C. Wilson Jr. Foundation all of the phase one projects in St. Clair, Marysville and Port Huron are fully funded," Maiers added. "We now have to start laying the groundwork for engineering, planning and design for phase two projects in the southern part of our county."
"Marine City is primed for another round of exciting new growth," added Scaccia. "With the support of Six Rivers, the Community Foundation, the County, Blue Meets Green, and the Economic Development Alliance, the spirit of collaboration is alive and well here along the shores of the St. Clair River."