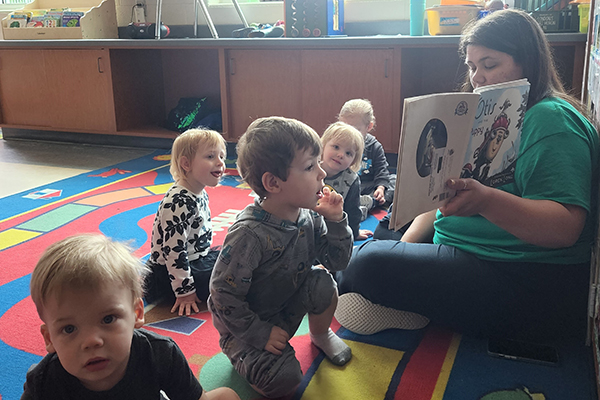 The YMCA of the Blue Water Area recently received three grants from the Community Foundation totaling nearly $4,900 to support its youth development professionals pursuing a Child Development Associate (CDA) credential allowing for higher quality programming and career advancement for childcare staff.
"The Community Foundation has been a key and instrumental partner with the Y for decades," said Josh Chapman, Community Foundation trustee and president and chief executive officer of the YMCA of the Blue Water Area. "The work that they're doing with childcare aligns really well with the work that we're doing here."
Lisa Salinger is an assistant teacher caring for children ages 2 ½ through 5 years old in the Warm World program at the YMCA of the Blue Water Area. Inspired by her coworkers to become a lead teacher herself, Salinger is currently pursuing her CDA credential.
"I feel that we're the first stepping stone, almost their first teachers," Salinger said. "If we can help them there, then they're going to have a better chance once they're in school and the more education we can get to support that, the better."
All Star Services Donor Advised Fund, the Bob & Ann Tompert Endowment Fund and the Francis P. Willson Fund provided funding for the grants to the YMCA of the Blue Water Area to assist childcare professionals such as Salinger with these costs, which result in higher quality classrooms and increased wages and benefits for the youth development professionals.
"It's a forward-thinking approach that we can support folks in their journey to get their next level credential so that they can get their education, take new opportunities and continue to stay in the profession," Chapman said.
The Community Foundation's grants help childcare staff to cover significant expenses, such as the $425 exam fee required for the CDA credential.
"I think it's a really wonderful way to maintain and potentially improve our program's quality, but also give these teachers the tools and loosen the financial barrier of attaining the certification," Chapman said. "A lot of folks maybe want to do it, but you need to have food and shelter whereas you don't have to have your CDA."