Eastern Michigan Bank is deepening its community connections with a corporate donor advised fund at the Community Foundation.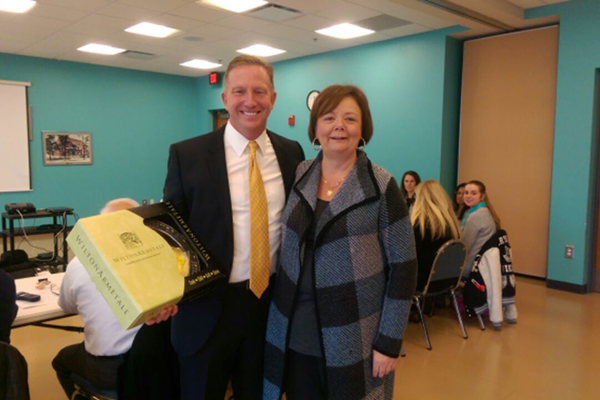 "We strive to give back to our community as much as possible. A corporate donor advised fund will not only help us streamline that process, it will also provide us with more opportunities to contribute right in our customers' hometowns," said Eastern Michigan Bank President and CEO William Oldford.
Originally chartered in 1895 as the State Bank of Croswell, Eastern Michigan Bank has been part of the region for over a century. With branches along Michigan's Thumb Coast ranging from Marysville, to Port Huron, Lakeport and further north and west, the bank has developed strong local ties through relationships with business owners, farmers, schools, churches, nonprofits and individual members of the community. The new corporate donor advised fund will help the bank build on that long-standing reputation of community support.
Oldford has been president of Eastern Michigan Bank since 2015 and became CEO in 2020, but has even longer ties with the Community Foundation and knows the important role the Foundation plays in the vibrancy and prosperity of the region. He has more than 20 years of Community Foundation Board involvement, is a long-standing governance committee member and is actively involved with the St. Clair Endowment Funds.
Eastern Michigan Bank will use the corporate donor advised fund to support the many outstanding local nonprofits and causes important to both its employees and customers, leaning on the Community Foundation staff for their expertise and guidance.
"I look forward to working with the Community Foundation to maximize Eastern Michigan Bank's philanthropic efforts," Oldford said.
Corporate donor advised funds are a growing family of funds at the Community Foundation that currently includes funds for All Star Services and DTE Foundation. Eastern Michigan Bank is the first bank in the region to partner with the Community Foundation to make a bigger impact with its giving.
The Community Foundation can help local companies with their community philanthropy. Like the donor advised funds that are popular among individuals and families, corporate DAFs provide companies with an easy and efficient way to make charitable donations. Interested companies can reach out to Jackie Hanton to learn more.