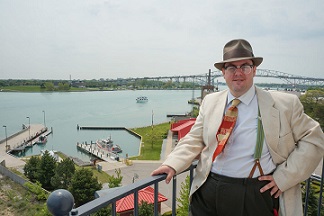 Since launching in 2016, the Come Home program has had 16 current and former recipients. We wanted to know – where are they now?
One of the more recent Come Home Award recipients, Andrew Kercher, has been quick to make himself a part of the Port Huron community.

"I'm so glad to be back home, and coming up on a year back, I'm still so excited about the area," he said.
Kercher moved back to Port Huron from Melvindale, MI in February 2018 after he accepted a job as community engagement manager at Port Huron Museums. He enjoys getting to work with dozens of local business and nonprofit leaders throughout the community to put on amazing events and exhibits at the museum.
"A major initiative I've spearheaded has been the inventory and cataloging project we are about to take on at Port Huron Museums, where we will be taking a couple weeks off from tours to do a deep dive into the museum collection," Kercher said. "We are excited to inventory things to find gaps and redundancies in our collection so that we are better prepared for sharing the stories of the Blue Water Area for many years to come."
Since he works at a museum, it's no surprise he loves old things. Being back in the area has allowed him to get considerable work done on the 1958 Packard he is restoring with his grandfather. It is running again for the first time in many years and he hopes to have it back on the road with a fresh coat of paint by warm weather.
"And on a personal level, things have never been better," Kercher said. "My wonderful girlfriend Lauren is now my fiancée Lauren, and we are hoping to close on a home just five blocks from the museum sometime in the next month. It has been a very exciting year, and I look forward to many more in the years to come."
The Come Home Award is essentially a talent retention program that pays college graduates in a STEAM related field up to $15,000 on their student loans, but only if they agree to move back home and work within the St. Clair County.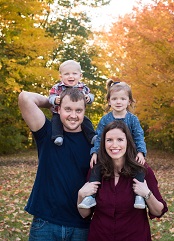 Come Home is especially appealing to couples thinking about starting a family, such as David and Lindsay LaBelle.
The LaBelles moved from Novi and bought a home in Clyde after receiving an award in late 2016.

"We are happily still working at the same jobs we started when we moved back three years ago," Lindsay LaBelle said. "Dave is a nurse at McLaren working on the cardiovascular floor and I'm working at Henry Ford OptimEyes in Fort Gratiot."
Shortly after moving back to the Blue Water Area, Lindsay gave birth to their daughter Abby, who will turn 3 years old this May. They also added a new member to their family, Noah, in 2019 and look forward to celebrating his first birthday in February.
"The $10,000 scholarship has been such a blessing and really kick started our efforts in paying off our student loans" Lindsay said. "We are so thankful for the financial support and are happy to be back in the Blue Water Area."
Erin Raymond, her husband Charlie and their sons are also happy to be back in their hometown of St. Clair.
Raymond has been a STEM teacher at Marysville Middle School since fall 2017, and absolutely loves her job.
She recently finished her fifth certification for Project Lead the Way's STEM curriculum. She can now teach Design and Modeling, App Creators, Medical Detectives, Energy and the Environment, and the Magic of Electrons.
"We finally feel like we are adjusting to being back home and have been enjoying our time with family," Raymond said. "Our twins, Cain and Cullen, are almost four and we are loving this stage of exploration and excitement. They are attending swim lessons at the YMCA and will continue BMX racing in the spring along with soccer. It's all about them right now."
A couple of the Come Home recipients have also become more involved with the Community Foundation.
Kim DeLand joined our Grants Committee this year, but that isn't the only thing that's changed for her in recent years.
DeLand and her husband moved back to Marysville from Royal Oak in 2017 so she could be closer to her work as an admissions representative at SC4 and volleyball coach at Yale High School.

Shortly after being offered the Come Home Award and making the move back, DeLand took over the athletic director role at Yale High School. She has since earned her master of arts in counseling and is now the new guidance counselor at Yale High.
Chelsea Khabbaz, one of the first Come Home recipients, also gives back to the Community Foundation along with her husband, Robbie. She has served on the Come Home Committee since 2018. Robbie serves on the Grants Committee.
"Things truly have come full circle," she said. "It's such an honor to be able to participate in the selection of the next Come Home scholarship recipients and give people just like me an opportunity to come back to beautiful St. Clair County."
Khabbaz still works in the clinical laboratory at McLaren Port Huron, a role she has had since moving from Birmingham, MI in 2016.
Chelsea and Robbie enjoy being close to family and friends and recently fulfilled one of their life-long dreams of owning a historic building in downtown Port Huron. They rent out the commercial space on the main level and live in the loft above.

"It has been truly amazing to witness the growth of the St. Clair County region up close and personal over the last few years," Khabbaz said.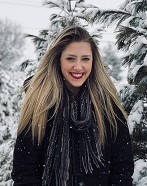 One of two recipients not originally from St. Clair County, Kayla Parzynski is still living in the East China Twp. house she bought in early 2019. She moved from Chesterfield to shorten her commute to the St. Clair County Prosecuting Attorney's Office.
She is now working at Region 10 PIHP. She manages the State Opioid Response (SOR) funding for Genesee, Lapeer, Sanilac and St. Clair counties.
Parzynski also earned her master's degree in public administration this past May.
Learn more about the Come Home Award.