Cadet Jackie Day has a dream of becoming the first female First Nations ship captain.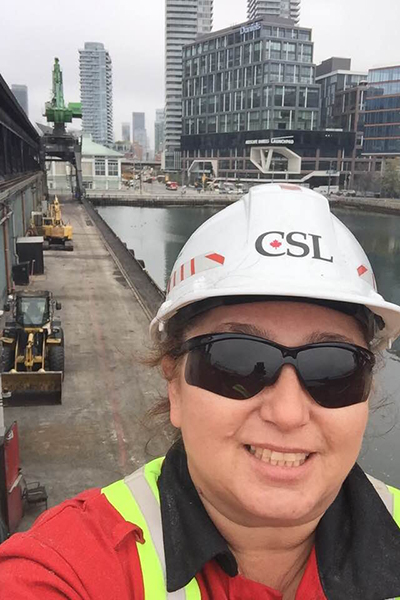 The Aamjiwnaang First Nation resident will be finishing out her last year in the Marine Navigation Technology Program at Georgian College in Owen Sound, Ontario, with support from a Blue Water Shipmaster's Fund Scholarship.
The fund was established at the Community Foundation in 2004 by Captain James C. Acheson in partnership with the International Ship Masters' Association (ISMA) Lodge #2 to support local students attending the Deck or Engineering program at either the Great Lakes Maritime Academy, Great Lakes International Marine Training Centre, Georgian College, or St. Clair County Community College's transfer program. Typically, awards of $1,000 are given from the fund each year but due to no applicants in 2020 and 2021, Jackie was awarded a $3,000 scholarship.
Jackie has been enrolled in Georgian's program for three years, but her journey to the sea began more than 25 years ago. When she was a young college student taking law and security classes, a co-op summer placement at the Ontario Provincial Police Marine Detachment first sparked her interest. But she had just gotten pregnant with her first child and life took her in other directions.
"I worked a lot of different jobs," Jackie said. "I was a teacher's aide, a security guard, a receptionist, a casino dealer, a private investigator … but nothing ever really worked for me. I never loved any of them. I would find myself moving on within three years."
But she still thought about a career on the water and once her kids were older she began pursuing it again. She began applying for the Canadian Coast Guard, but without experience as a deckhand she couldn't get in. In 2011, she attended Georgian and received a Marine Emergency Duties Certificate but it still took her another three years to get into the Coast Guard finding a position, not as a deckhand, but as a steward serving meals and cleaning cabins.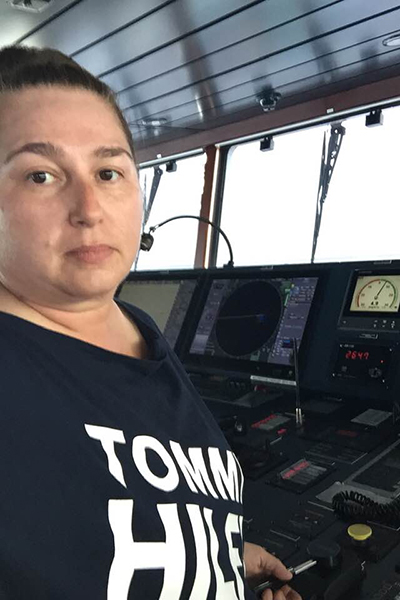 "I was thrilled, Jackie said. "I figured at least it got my foot in the door."
Less than a year later she had worked her way up to chief cook, working on the Canadian Coast Guard/Royal Canadian Mounted Police vessels. Although she enjoyed cooking, it was still not where she wanted to be.
"I wanted to be a captain one day," Jackie said. "The first female First Nations captain … that was my dream. So I made the hardest decision to go back to school and take the Marine Navigation Program at Georgian College."
And since then she's been working hard toward that dream. Her program includes coursework at the college and also requires 360 days at sea. This September she will head out with Canada Steamship Lines (CSL) for 90 days to finish the last of her sea days, where her duties include loading cargo, mooring, navigation, safety officer tasks, and more.
"I love it!" Jackie said about working on the ship. "Every day I wake up it's something new, being able to travel, seeing new places, working on different ships, meeting new people … it's the only thing I've tried that I haven't got sick of after three years."
She has a few remaining classes to complete in the spring and a final oral test next summer and then Jackie will receive her Watchkeeping Mate Certificate and can finally start her career as a 3rd mate … nearly 30 years after she first dreamed of working at sea. Then she will be one step closer to her goal of becoming a captain.
Becoming a captain will be no easy feat. Jackie says it is an industry that has very few women. While the number has increased over the last few years, it is estimated that only 1.28% of the global seafarer workforce are women, with 94% of those working on cruise ships or passenger ferries. But that doesn't deter her.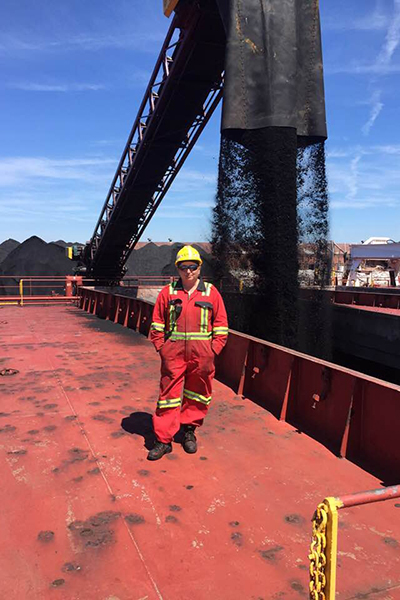 "I'll have to work hard and make my way up each level," Jackie said. "To be a good captain you really have to understand each role on the ship well, so you have to spend a few years at each. It won't be easy, but that is my 10-year goal."
It was Jackie's story of persistence and determination that struck a chord with the ISMA scholarship committee.
"We were excited to receive Jackie's application," said Judy Pitrago, committee chair. "It gave us a good look into a very hard-working, deserving woman, driven by goals and willing to sacrifice material things to reach those goals. We know she has a bright future ahead of her!"
And so does Jackie's community. She has become a role model to her children and grandchildren as well as the residents of Aamjiwnaang First Nation.
"People in my community call me a role model," Jackie said. "They say I am an inspiration to young females on the reserve."
They follow her on marine traffic and wait on the docks at the casino or the reserve when she is passing through. "They'll be lined up waving to me and sometimes even have signs," Jackie said.
"It makes me so happy that I can be an example for them and encourage them to follow their dreams. If I can do this they can do it too … whether they are female or First Nation or 48 years old like me. You're never too old in your pursuit of happiness!"