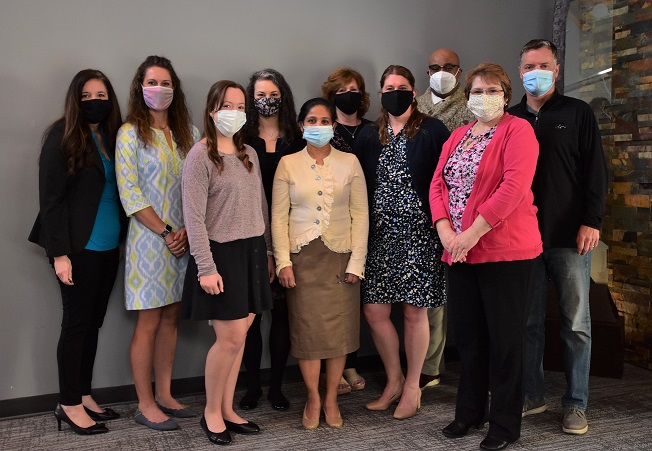 It's a bitter-sweet day for the Community Foundation as we say good-bye to our small business consultant, Kanchan Wankhede. She has taken a new position as the Director of Entrepreneurial Services at The Underground Business Incubator and Service Center in Port Huron. The Underground provides entrepreneurial support and services to the entire St. Clair County region.
"We're sorry to see her go, but excited for her future and for what she'll do for entrepreneurs," said Randy Maiers, President & CEO of the Community foundation.
Kanchan began working with the Community Foundation in the early days of the Covid pandemic in 2020 as the Foundation sought to find support for women and minority owned small businesses.
"We are excited to welcome Kanchan to our EDA team. She is a great fit for managing the region's Smartzone Incubator and Business Center," said Dan Casey, CEO of the Economic Development Alliance. "She has experience working with businesses and organizations that not only have a local or United States footprint, but that spread well into India, Europe and Asia. As a small business owner herself, she understands the challenges and obstacles entrepreneurs face on a daily basis."
Kanchan has been a Strategic Management and Human Resources (HR) Professional for the past 24 years. For the past six years, Kanchan has worked as the Principal Consultant for her company Great Workplace LLC. Kanchan's company has helped businesses of different sizes to build a long-term strategy for sustainability, employee engagement and retention.
"The greater danger for most of us lies not in setting our aim too high and falling short, but in setting our aim too low, and achieving our mark," she said. "So, aim high, believe you can and you are halfway there. I look forward to assisting facilitate new startups and helping entrepreneurs grow though coaching, connections to potential funding sources and more, in my new role at The Underground."
https://www.startunderground.com/