It all started back in 2011 with the concept of gathering like-minded women to show the power of the purse in charitable giving… getting 100 women to give $100 each and granting it all away during a fun evening together.
"I can't believe it's been 11 years since the first 100+ Women Who Care event, and this year we topped $131,000 of total grants that local women have given back to our community, right out of their purses," said Women's Initiative committee chair, Dr. Lindsey Adams Fitchett.

The nearly 200 women in attendance at this year's event listened to three heartfelt pitches from attendees about their favorite local nonprofits whose names were drawn at random. Everyone in attendance then voted on their favorite.
The $10,000 grant winner was Mid City Nutrition, then a $1,500 second place grant was given to Blue Water Area Humane Society and a third place $500 grant was given to Friends of the St. Clair River.
"It was an extra special evening this year because we had several young women attend," said Women's Initiative Vice Chair, Therese Damman. "Some Women's Initiative members brought their daughters, we had special guests from Literacy & Beyond's 2GEN program, as well as Community Foundation scholarship recipients and a few Youth Advisory Council members."

As a fun new addition to this year's event, three lucky ladies with the most colorful, most unique and smallest purses were chosen to give their own $250 grant to their favorite nonprofit. Women's Initiative committee members had the difficult task of making their way through the crowds of women searching and examining purses to find the winners. A tiny doll sized purse holding a quarter was selected as the smallest, a purse with a multi-colored feathered bird as most colorful and a vintage cigar box turned purse as the most unique. The owners of the three purses selected Blue Water YMCA, Riley Gleason Foundation and Hunter Hospitality House as the lucky recipients of their mini grants.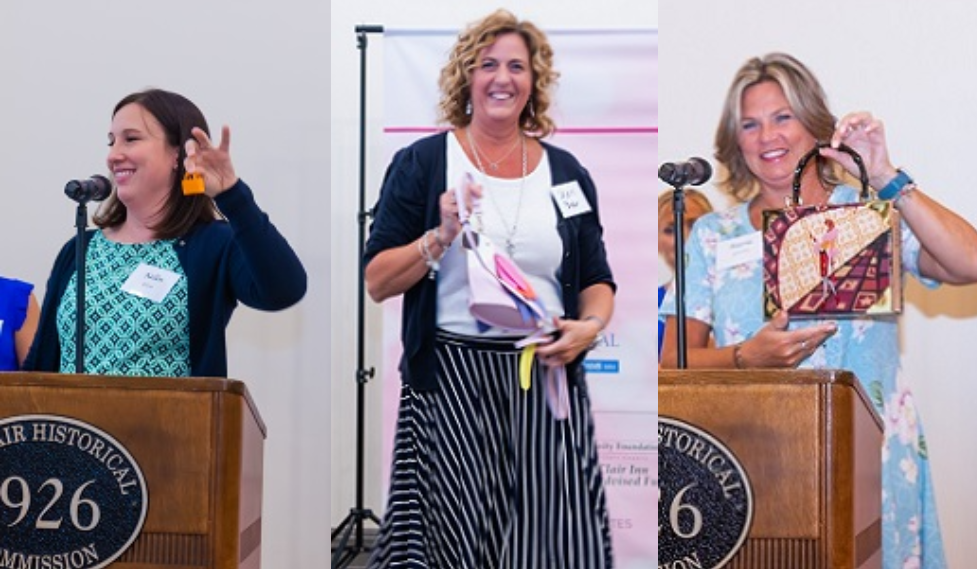 The women's event has continued to grow and evolve but at its core will always be a fun evening of connecting and giving back. The very first $10,000 grant was given to People's Clinic and since that time 33 other grants to local organizations from Imagination Library to Blue Water Safe Horizons to Taking a Shot at Breast Cancer have been given out.
The power of the purse even pervaded through the pandemic when the event went "virtual" with small groups of women safely gathering around the county.
"I don't think we ever thought an online gathering would be as much fun as it was… we enjoyed the silly road rally meets scavenger hunt type games so much we did it two years in a row, while also giving away $10,000," said former Chair of the Women's Initiative, Marnie Rossow. Women safely gathered, gave their $100, and competed against other teams on an online platform, while still making an impact on local organizations.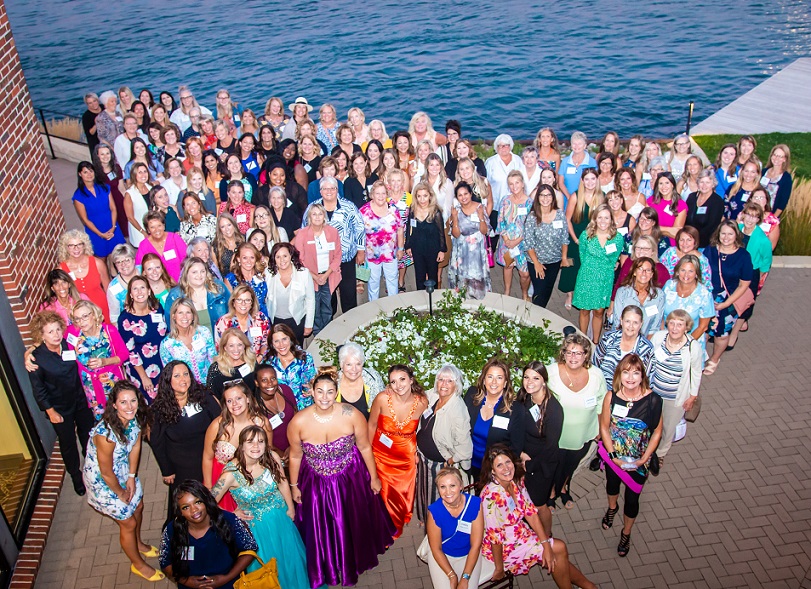 The event is made possible each year because of the support of the Women's Initiative Steering Committee. They oversee the Women's Initiative Endowment Fund which started back in 2001 and supported the first 100 Women Who Care gathering. As the 100 Women events have gotten more successful and easily gather well over 100 women each year, the excess funds raised at the event are added to the endowment fund to grow future grants given from the fund.
To learn more about the Women's Initiative and 100+ Women Who Care, click here.