The Big Give is coming June 12
Posted on May 25, 2018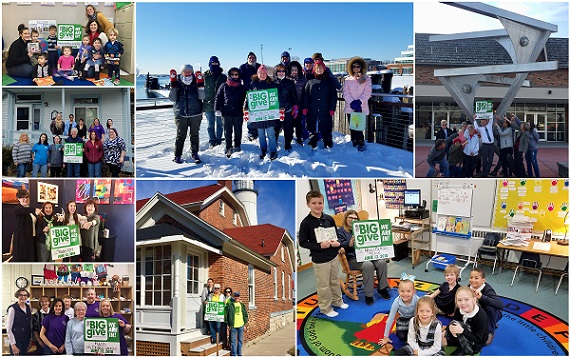 It's been four years since the last 24-hour community giving event, and today the Community Foundation is pleased to announce The Big Give, its new online giving rally. The Big Give will take place June 12 at 12:00 a.m. ET through June 12 at 11:59 p.m. ET at stclairfoundation.org.
The Big Give will help thousands of people support the nonprofits they care about by utilizing the Community Foundation's webpage, which includes more than 70 participating nonprofits in St. Clair County.
"We champion events like The Big Give to support the excellent work of our local nonprofits and to show what our community can collectively accomplish through generosity," said Mike Cansfield, board chair of the Community Foundation.
And now thanks to Community Foundation donors and partners, all donors can have their contributions amplified with the $27,000+ Bonus Pool. Every participating organization will receive a percentage of the Bonus Pool based on how much they raise during the 24-hour giving period.
The growing Bonus Pool is made possible by generous contributors such as the James C. Acheson Fund, the Norman and Isabel Cosgrove Memorial Endowment Fund, the Nasr Family Fund, Northstar Bank, Eastern Michigan Bank, Bill and Linda Forster, and the Youth Advisory Council.
New this year - donors will have access to special offers, through our Promotional Partners, provided by local businesses for those who give on June 12 during The Big Give. Providing a copy of the email confirmation of your donation will unlock these offers. We look forward to announcing our Big Give Promotional Partners and exciting prizes for Big Give participants in the coming weeks.
Everyone can participate in The Big Give, and make their gifts extra special by donating in honor of, in memory of, or on behalf of a friend or loved one. Giving is easy on any device and all major credit cards will be accepted through stclairfoundation.org.
Created to give nonprofits an economic boost, the past three giving events (2009, 2010, and 2014) leveraged a total of $1,108,000 for local nonprofits.