Sanborn Gratiot Memorial Home Fundraiser
Posted on June 4, 2019
Sanborn Gratiot Memorial Home wants to construct a gazebo in the courtyard area of the home for residents to more fully enjoy their time outdoors. Justin Neil, a member of the development committee for Sanborn, is offering a $1,500 match.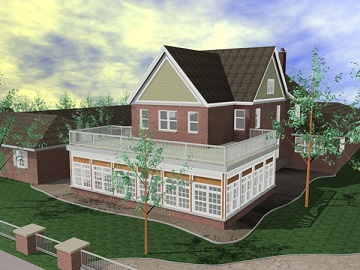 In addition to the gazebo, additional courtyard improvements will be made to ensure the safety and security of Sanborn residents. Those improvements include the purchase and installation of fencing and a sidewalk.
The Community Foundation provided a $3,000 grant from the Harry F. Lewis Fund for the fence to enclose the courtyard area. The Harry F. Lewis Fund was established in 1994 and supports general charitable purposes for the elderly in St. Clair County. The Lewis Fund has also granted toward Sanborn Gratiot Memorial Home's kitchen updates with a $3,000 grant for a new stove. More than $100,000 has been granted to local agencies serving St. Clair County's aging population through this fund.
A total of $7,000 is being raised for the courtyard project. This will allow Sanborn Gratiot Memorial Home to graciously accept the matching funds from Justin Neil and offset any additional costs not covered by the Community Foundation grant.
To give to the fundraiser visit https://www.gofundme.com/2hrgx-a-cause-i-care-about-needs-help