Robert & Marilyn Kovach - Donor Spotlight
Posted on October 31, 2008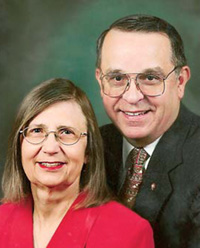 Robert Kovach and Marilyn Wolf Kovach met and started dating while both were students at Yale High School and soon married in 1966. Robert retired as Vice President of Administrative Services at St. Clair County Community College and Marilyn retired from Blue Water Hospice. Robert and Marilyn have 3 sons and a daughter, who are all graduates of St. Clair County Community College.
Robert and Marilyn started funding a scholarship for a graduating senior of Yale High School to attend St. Clair County Community College in 1983. They have provided a scholarship for each of the twenty-six years since then. In 2008, they established an endowment fund within the Community Foundation which will be funded from their estate and will continue the scholarship in perpetuity.
The Kovachs stated, "This is our way of thanking God and our community for the many blessings we have received in life." They hope this scholarship will serve as an impetus for a student to attend college and make a positive difference in his or her life.