Pop Up Farmer's Market
Posted on July 21, 2016
Residents living in food desert areas of Port Huron will now have greater access to healthy foods.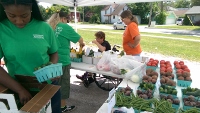 Earlier this year, the Community Foundation of St. Clair County, in partnership with three other Thumb Area Community Foundations, announced grant funds received from the Michigan Health Endowment Fund. A portion of those grant funds are now supporting a pop up farmer's market throughout Port Huron.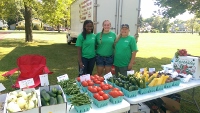 The goal of this program is to encourage healthier children, families and communities through accessibility, education and partnerships that promote a stronger local food system- all which address the Foundation's priority area of access to healthy food. The market has five stops in total and operates on Monday and Wednesday. The produce is being supplied by local farmers and sold weekly at the various locations.
Market Schedule:
Monday:
1:30-3:00pm: Woodrow Wilson Elementary School
4:00-5:30pm: St. Clair County Health Department
Wednesday:
1:30-2:30pm: Garfield Elementary School
3:30-4:30pm: Knox Field
5:30-6:30pm: Lincoln Park