New fund supports robotics
Posted on March 25, 2018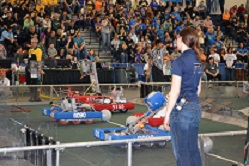 Robotics inspires young minds to dream, design and build while developing skills that translate into future career opportunities. And now, Community Foundation donors and local companies can support local robotics through the newly established Blue Water Robotics Fund.
Started by the Economic Development Alliance of St Clair County, this fund will support the teams of Blue Water Area Robotics Alliance and the programs, projects and services of FIRST Robotics.
"FIRST Robotics provides opportunities for our students to utilize the knowledge they are gaining in the classroom and apply it to real world challenges," said Dan Casey, CEO of Economic Development Alliance. "It is a real life laboratory where students have to be innovative, skilled and function as a team – all great attributes that they can take with them as they start their careers."
The worldwide FIRST Robotics Competition kicks off each January when teams receive their challenge, which involves building a robot that can play a short game within specified parameters. This begins the six-week build period with tons of hands-on learning that continues through the completion of the competition in late March.
Throughout the competition, students are immersing themselves in a STEAM curriculum, which inspires these young minds to dream, design and build while developing skills that translate into career opportunities.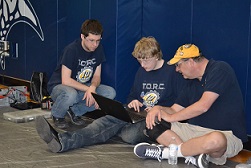 Students not only learn teambuilding, but they get experience with engineering, computer-aided design (CAD), program solving, graphic design, transportation logistics and putting together a business plan.
Students also get to interact with the qualified volunteers, such as electricians, engineers, computer programmers and nurses, needed to run a FIRST Robotics event and who mentor them along the way.
"The establishment of this fund is fantastic news. Funding for high school robotics teams relies heavily on the generosity of local businesses and the community. Having access to a safety net for an unexpected loss of a sponsor or a source for funding upgrades to equipment will go a long way toward strengthening BWARA robotics teams and inspiring the students," said John Antilla, Mentor for Capac's robotics team Metal & Soul.
"Our board is proud to work with the Community Foundation to bring this opportunity to the public to help support our local robotics teams and the future of robotics locally," Casey said.
One day the EDA hopes to expand its fund to include opportunities for younger students by utilizing the FIRST Robotics Lego Leagues and possibly even Ozobots and Littlebits through collaborating with local libraries or other institutions.
"We are excited to bring more awareness to the incredible opportunity robotics bring to our students locally. This is a great option for donors interested in supporting young minds, STEAM and hands-on learning to be linked with local robotics efforts," said Jackie Hanton, vice president of the Community Foundation.