Kayla Parzynski newest Come Home recipient
Posted on May 29, 2018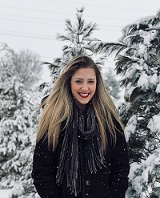 A court clerk with the St. Clair County Prosecuting Attorney's office, Kayla Parzynski is the latest beneficiary of a $10,000 Come Home Award.
She was hired in May of 2017, shortly after earning her Bachelor of Science in Criminal Justice and Legal Studies from Central Michigan University.
"I absolutely love my position here in St. Clair County. I am given the opportunity to learn from my coworkers on a daily basis and I plan to stay employed by the county for as long as possible," she said.
Unlike the Community Foundation's other Come Home recipients, Parzynski had never previously lived in the county. She resided in Chesterfield with her parents and made the long commute to work.
With help from the Come Home Award, she moved into her first home near St. Clair.

"Aside from just working close to home, I think the area of St. Clair County has a lot to offer new residents," Parzynski said. "I love the small town feel, being close to the water and the fun events that take place downtown each summer."
She is also enrolled online at Michigan State University as a graduate student. She hopes to earn her Master of Science in Legal Administration and one day work as a head court administrator.