Grants exceed $2.7 million in 2017
Posted on January 15, 2018
The Community Foundation had another record-breaking year for grantmaking in 2017 with grant totals exceeding $2.7 million.
Grants cover everything from arts and community prosperity to education. The largest percentage went to our top priority of Economic and Community Prosperity ($1.1M+) and Nonprofit Capacity Building/Support ($462,000+).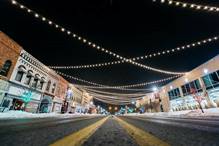 Grants for economic and community prosperity covered a variety of projects across the county, including a $22,500 scenic turnout renovation in downtown St. Clair. The Gerry Kramer Spartan Fund also granted $10,000 to support the downtown light project in Port Huron.
When it comes to nonprofit capacity building, the Community Foundation hosted a workshop series with the Johnson Center for nonprofit sustainability. The Foundation also has multiple funds that focus on general support, like the Thomas & Frances Treleaven Fund. Established in 2004, this fund provides annual support to the Council on Aging. The Treleaven fund granted out $22,509 to the COA in 2017.
Other highlights:
The Foundation's Youth Advisory Council reached a milestone in 2017 by granting out $1 million since its creation in 1994. YAC was started by a $1 million dollar challenge grant from the W.K Kellogg Foundation through the Michigan Community Foundations Youth Project. The purpose of YAC is to encourage youth development and is run for youth, by youth. YAC granted out more than $49,000 in 2017.
The Riverbank Youth Theatre in Marine City received a total of $30,000 from the Francis P. Willson Fund, St. Clair Foundation Fund and H& H Whiting Fund.
Immanuel Lutheran Church also received $10,000 from the Francis P. Willson Fund to support its WeekEND HUNGER backpack program.