Golf outing sends scholar-athletes to college
Posted on July 30, 2018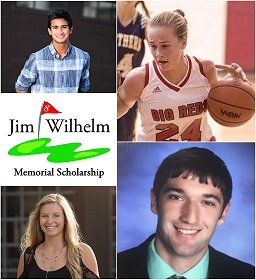 Summer equals golf, which also means plenty of charity golf outings. But for 30 years one in particular has been near and dear to Community Foundation staff – the Jim Wilhelm Memorial Golf Tournament.
Organized by Dr. Daniel Wilhelm, this event raises money for our James Wilhelm Memorial Scholarship Fund, which helps scholar-athletes from the Blue Water Area attend college. This year's recipients are:
MacKenzie Desloover – Yale High School
William Patsalis – Marine City High School
Madeline Trombly – Port Huron High School
Nishaan Makim – Port Huron Northern High School
One of our oldest scholarship funds, it was established in 1988 by Dr. Wilhelm and his wife, Marcia, in memory of their son, James T. Wilhelm, who was killed in a car accident in July 1987. The 23-year-old was the 1981 Golf Association of Michigan Junior Amateur Champion and was considered one of Port Huron's outstanding athletes.
Since its inception the James Wilhelm Memorial has awarded more than $200,000 to over 235 student athletes. This fund also helps bring college grads back home by supporting our Come Home Award.