Funding tops $440,000 for young adult programs
Posted on June 28, 2018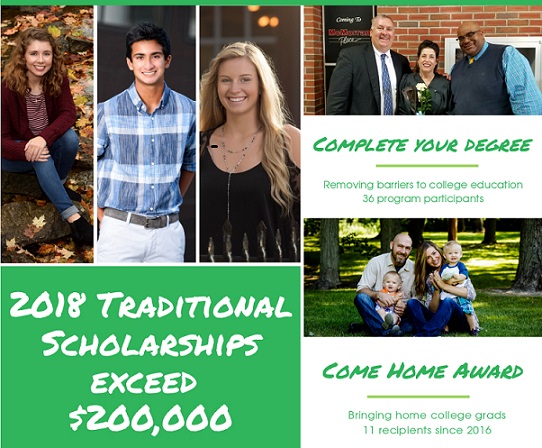 High school grad parties are in full swing, which means many students are gearing up for college in the fall. Many of those students will do so with the help of financial aid, including more than $200,000 in traditional scholarships from the Community Foundation of St. Clair County.
This year the Community Foundation will award 73 traditional scholarships to incoming college freshmen as well as students continuing their college education. These traditional scholarship awards are only one aspect of the Foundation's multi-program approach to college and career success.

"Within our focus area of Cradle to Career success we've developed a strong three-part approach," said Mike Cansfield, board chair of the Community Foundation. "We have moved well beyond just the traditional mindset of one-time scholarships for people seeking a college education. We now focus on total college and career success."
In addition to traditional scholarship awards, the Community Foundation's other two programs that support college and career success are:
Complete Your Degree (CYD) which was launched in the fall of 2017 and goes well beyond normal tuition, books and supplied to include support for overcoming life needs such as housing, daycare, food and transportation.
Come Home Program launched in early 2016 changes the traditional business model of scholarships and instead of awards on the front end of a college career, the Come Home program pays awards up to $15,000 to recent college graduates who move back to St. Clair County to live and work.
By September of 2018 the CYD program will have as many as 36 participants enrolled, all of whom will be in the program until they successfully complete their degree at St. Clair County Community College. Projected direct student support funding for CYD in 2018 exceeds $150,000.
A Come Home Award is essentially a talent retention program and pays students on the back-end of their college career, after they have completed a degree in a STEAM related field, but only if they agree to move back home and work within the St. Clair County. Since its launch in 2016 the Come Home program has awarded $90,000 to 11 college graduates.