Franklin H. Moore Jr.
Posted on February 7, 2018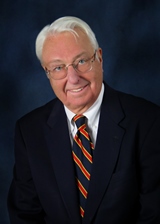 Today we mourn the passing of one of the Community Foundation's most esteemed donors and partners - Franklin H. Moore Jr., age 83, of St. Clair. Franklin passed away February 3, 2018, following a short illness. He was born December 5, 1934 in St. Clair to the late Franklin H. Sr. and Alice Moore.
For many decades Franklin faithfully aided the Community Foundation, and in particular our projects in St. Clair and the surrounding areas. He joined our board in 1981 and served as board chair from 1997 to 2003. In 2014 he received our Distinguished Service Award, which is our lifetime achievement award and the highest honor the Community Foundation bestows upon an individual.
Frank was also president and chairman of the board at Commercial and Savings Bank in St. Clair. Having a deep commitment to his community, Franklin had many other philanthropic endeavors and was actively involved in many organizations. Among those he was past president of Rotary and past president of the Michigan Bankers Association.
Aside from his community work, Franklin loved traveling across the globe with his wife, Nancy. They also enjoyed the Stratford Theatre Festival and attended with friends for many years.
Franklin is survived by his beloved wife of 59 years, Nancy Moore; loving children, Frank "Spike" (Jennifer) Moore, Elizabeth (Timothy) Bishop, Jennifer (Sean) Rynne and Walter (Christine) Moore; ten cherished grandchildren, Kate, Mac, Michelle, Nolan, Andrew, Tyler, Molly, Charlie, Alex and Ryan; and siblings, Margaret (Jack) Roll, Susan Ferris and David (Jane) Moore.
Memorials can be made to the Community Foundation in memory of Franklin Moore and will be credited to the St. Clair Foundation Fund.