Former teacher leaves $2 million gift
Posted on March 14, 2016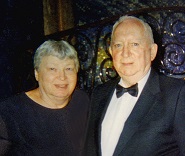 A hardworking former teacher from Marine City and her electrician husband left their $2.3 million estate to the Community Foundation of St. Clair County.
"Alexander and Celestine were a quiet and unassuming couple who never made headlines during their lifetimes, but they are making headlines now," said Donna Niester, community foundation board chair. "This is the largest scholarship gift we have ever received and it will benefit many generations of Marine City students looking to further their education at St. Clair County Community College."
The new Alexander and Celestine Lamere Fund will begin providing full-ride scholarships for graduates of Marine City High School in 2017.
Celestine Lamere was a teacher for over 30 years. Between the two, they managed to save over $2.3 million through frugal living and educated investing. Alexander passed away in 2011 and Celestine passed away in 2015.
Celestine grew up on a family farm, earned her degree in teaching and devoted her life to education. She taught at the elementary school in Marine City her entire career.
After she and Alexander married in Minnesota in 1959 they moved to Cottrellville Township in southern St. Clair County. Although frugal in their day-today living, they both enjoyed traveling and taking cruises during their lifetimes.
Beth Engel, a trusted advisor to the Lamere's, said, "The Lamere's were not large philanthropists during their lives, but Celestine, who died last December at the age of 86, is now surprising many in this small community with a huge donation from her estate."
Engel reached out to community foundation staff to help organize, plan and implement a strategy to meet the Lamere's very specific philanthropic goals. By including the Lamere's attorney and the Foundation well in advance, the legacy planning process met the goals of the Lamere's while they were still alive so that their hometown would benefit for generations to come.
"There was a huge element of trust in our community foundation, and their capacity to manage a multi-million dollar estate," said Engel.