BWA's must attend events
Posted on January 18, 2018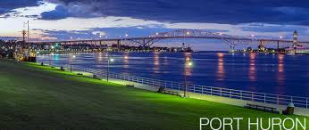 Mid-February is shaping up to be a busy time for the Blue Water Area with events discussing the prosperity of the region. Here are highlights for three of them:
Crain's Detroit: NEXT St. Clair County
NEXT focuses on what's next in economic development for St. Clair County. Attendees of the event will hear from three panels of local experts about how the region is using its "Blue Water" brand to solve central economic challenges such as creating, keeping and attracting talent, and the loss of large employers.
When: Thursday, Feb. 15 at 9:30 a.m.
Where: Blue Water Convention Center
Purchase Tickets for NEXT St. Clair County.
Economic Development Alliance Semi-Annual Meeting
Join the EDA in celebrating our region's recent successes as they share business, community and economic development highlights from 2017. Also hear from guest speaker Lieutenant Governor Brian Calley.
Calley combines the skills he acquired from an accomplished private sector career with a heart for public service and a record of getting things done. He brings a daring and inclusive problem-solving approach to addressing Michigan's greatest challenges.
When: Monday, Feb. 12 at noon
Where: Blue Water Convention Center
Register for the EDA Semi-Annual Meeting.
Port Huron Schools State of the District
During this event, Superintendent James Cain will provide an update on the happenings at Port Huron Schools including new programs, construction and how the schools are faring in the economic climate.
When: Thursday, Feb. 15 from 8-9 a.m.
Where: Blue Water Convention Center
This event is free to attend, but you must confirm your attendance by Feb. 9 to Keely Baribeau at .(JavaScript must be enabled to view this email address) or the Blue Water Area Chamber of Commerce.