Women's Initiative Challenge Event- 300 Women Who Care
Posted on July 10, 2019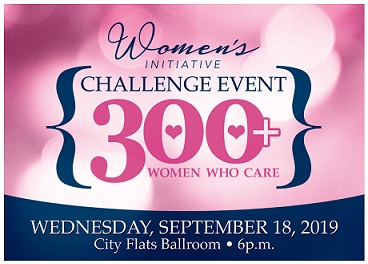 JOIN US
Wednesday, September 18 – 6-8 pm
City Flats Ballroom, 800 Military St., Port Huron
We invite you to join us at the Women's Initiative Challenge event. This will be a great opportunity for you to hear from local women making an impact in our community through philanthropy and learn how growing our endowment fund can further our impact. In addition, your gift of $100 will help give $10,000 to a few lucky nonprofit organizations. Your vote that night will be used to determine one of those winners. We hope you can join us to socialize with like-minded women and learn about the impact of the Women's Initiative.
Donations are encouraged.
Heavy hors d'oeuvres and cash bar. Snappy casual attire.
Please register here by September 12.

You will nominate your favorite nonprofit organization that could receive a grant on this evening during registration.
Any questions, please contact Sue Schmid via email .(JavaScript must be enabled to view this email address) or call 810-984-4761.