2018 scholarships now available
Posted on January 8, 2018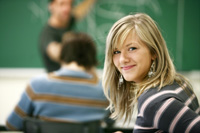 The Community Foundation is now accepting scholarship applications for the 2018/2019 academic year. The deadline to apply is March 18.
The Community Foundation administers a variety of scholarship funds. Scholarship funds can be a tribute, a testament or a torch that inspires. Scholarships can memorialize loved ones, recognize achievements or provide hope for the future. Our scholarship donors are as varied as the nearly 40 awards they represent, but they all have one thing in common - they believe every student should have the opportunity to achieve their educational dreams.
To see if you are eligible for one of the Community Foundation's scholarships, click here.