2018 Retiring Board Trustees
Posted on December 27, 2018
As 2018 draws to a close, we want to express our gratitude and recognize two board trustees who have reached their term limits, Mike McCartan and Dr. Sushma Reddy.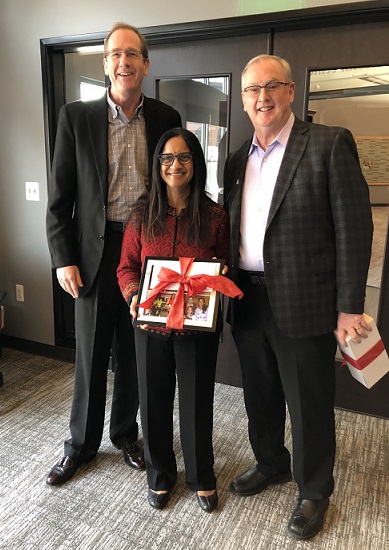 In 2009, both McCartan and Reddy served on our educational task force, Mike as chair. They were then recruited to join the board the following year. Since joining in 2010, both have been busy lending their time and talents to the Foundation and its initiatives.
Dr. Reddy is a charter member of the Women's Initiative. She was also a member of our Grants Committee from 2013 to 2017. Reddy was the driving force behind the Read and Ride program in 2016, which brought 26 green microcycles to Avoca Elementary School.
McCartan is on the Foundation's Governance Committee and is a long time member, and former chair, of our Grants Committee, both of which he will continue to serve on in 2019.
Both McCartan and Reddy provided guidance and insight as members of this year's Strategic Planning Committee, offering their experience and wisdom in creating a plan for the next three years of the Foundation.
As we look ahead to the vision and growth of the Foundation in 2019, our 75th year, we recognize the vital role board trustees play in achieving our goals and shaping our future. We are grateful and honored to have shared the last 9 years with Mike McCartan and Dr. Sushma Reddy.