13 Local Courts Get Major Upgrades
Posted on July 26, 2019
Hundreds of children and local families across St. Clair County are jumping with excitement around the 13 new multi-purpose courts and play spaces in local parks.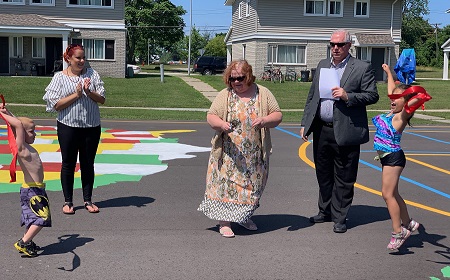 "We know that access to recreation is important, especially for children," said Hale Walker, chair of the grants committee for the Community Foundation. Studies show kids should get at least one hour of exercise every day. Doing so leads to better outlooks on life and helps with a variety of health issues.
Local children will now have the opportunity for more play and activity at any one of 13 new multi-purpose courts county-wide. These courts were funded with $139,250 by the Community Foundation of St. Clair County with support from the Ralph C. Wilson, Jr. Foundation, along with $45,000 in generous matching funding from St. Clair County Parks.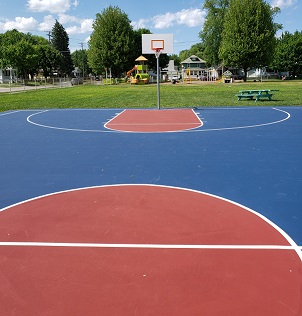 The Port Huron Housing Commission hosted their Grand Re-opening & Ice Cream Social to unveil the new court at Huron Village this week. They added over $5,000 of their own funding to $10,000 from the Foundation, as well as $5,000 in matching grants from the James C. Acheson Foundation for a total investment of $20,153. Their court was resurfaced with new lines and striping added as well as new equipment including basketball hoops.
The King Road Park Project in Marine City used the $10,000 grant and matching $5,000 from St. Clair County Parks to install a new shuffleboard court, a new pickleball court, and a concrete, all weather corn-hole gaming set. In addition, the existing basketball court was repurposed to include an ice-rink liner and border so it can be used in the winter months as well. Other components of the project include handicap accessible sidewalks leading to modified play places, park rule signage and gaming equipment. Learn more about the King Road Park Project: https://ebw.tv/feature-marine-city-parks/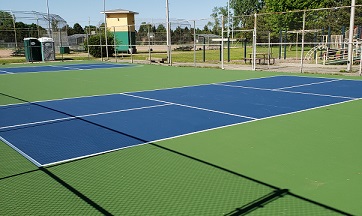 When this grant opportunity was rolled out, Board Chair of the Community Foundation, Mike Cansfield said, "Promoting healthy lifestyles and allowing everyone access to recreation leads to more vibrant communities. We're proud to collaborate with friends and partners to strengthen the county by making more multi-purpose courts available."
All grant recipients were as follows:
City of Port Huron
16th Street Park- $15,000
Optimist Park- $15,000
Sanborn Park- $15,000
Lincoln Park- $10,000
Port Huron Township
Baker's Field Park-$15,000
Port Huron Housing Commission
Huron & Gratiot Village- $15,000
Marysville
Marysville Park - $15,000
Morton Park -$15,000
Village of Capac
Whistle Stop Park- $15,000
Wales Township
Wales Township Park- $15,000
Marine City
King Road Park- $15,000
Algonac High School
AHS Tennis Courts- $15,000
Faith Lutheran Church
Stone Street Court- $9,250