Youth Advisory Council (YAC)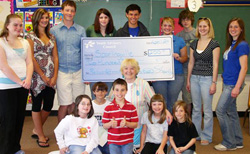 The Youth Advisory Council (YAC) is a group of students representing most high schools in St. Clair County. They are empowered to create a positive role model for youth as philanthropists, assess local youth needs, review grant applications, and advise the Community Foundation on youth grant awards.
The Youth Advisory Council Fund was initially created in 1994 with a 1 million dollar challenge grant from the W.K. Kellogg Foundation through the Michigan Community Foundations Youth Project. The purpose of the Youth Project was to encourage youth development in local communities throughout the state while strengthening community foundation leadership and grant-making capacity.