Ernest T. & Barbara A. Oskin Fund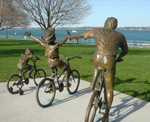 Ernest and Barbara Oskin established this fund in 1998. One half of the annual net income from this fund is intended for general charitable purposes in the City of St. Clair with a preference given to projects of beautification or those in furtherance of education. The remaining half is for general charitable purposes at the Foundation Board's discretion.
Recently this fund was able to provide funding for some significant improvements to Palmer Park in St. Clair.